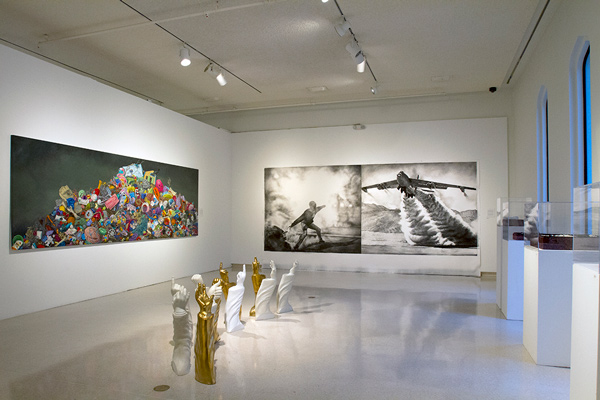 Brand Library & Art Center: ONE YEAR
Whatever one's disposition, "ONE YEAR: The Art of Politics in Los Angeles" at Glendale's Brand Library & Art Center provides fuel for thought and stimulus to action. Negotiating the polemics of the current political climate and the overarching sense of anxiety felt in the arts, "ONE YEAR" offers a range of art that evinces nuance and directness, anger and vitality, corrosiveness and verve.
From Eileen Cowin's five channel video installation, Fear Itself (2014), situated in a darkened walkway, to Guillermo Bert's multi-media neon work, Gentrification (2017), which moves beyond the conceptualism of the 60's into today's activism, and Joey Forsyte's A Band of Voters (2017), an interactive platform for promoting action beyond appreciating the artifacts in the gallery and getting out into the world and voting, the visual panorama set out in this diverse exhibition is broad and multifaceted.
Keiko Fukazawa's Out Of Hand (2017) very slyly comments on the issues that politics and regal gestures evoke, and performed wall drawings by Larry Gipe, New Old Testament No.1 (Baltimore, 2013/SAC Bomber 1953) (2017), in which different types of smoking devices are juxtaposed, provoke questions about our value systems. The melancholy oil-painted self portrait Painting Myself Out of the Headlines (2017), by Kohshin Finley, punctuates the diverse approaches to untangling this time frame.
In Mark Steven Greenfield's Anger Mismanagement Series (2015) and Scott Grieger's, United States of Anxiety (2017), quietly outrageous disturbances of language call into question how order gets grammatically arranged. Constance Mallinson's dystopian landscape, Mountain (2016), calls for understanding the inductive nature of politics while HK Zamani's Fashion Of The Veil (2017), a large-scale photograph of himself as other, provokes a double take. "ONE YEAR" delivers a depth and complexity of responses, just as is set out so lucidly in Alex Kritselis' The Offering, Lesbos2 (2017): a proffering of ways in which to suffer, to combat, to contextualize and to try and find our way through the trials of history even when those trials are occurring all around us.
"ONE YEAR: The Art of Politics in Los Angeles," November 18, 2017 – January 12, 2018 at Brand Library & Art Center, 1601 West Mountain Street, Glendale, CA 91201.