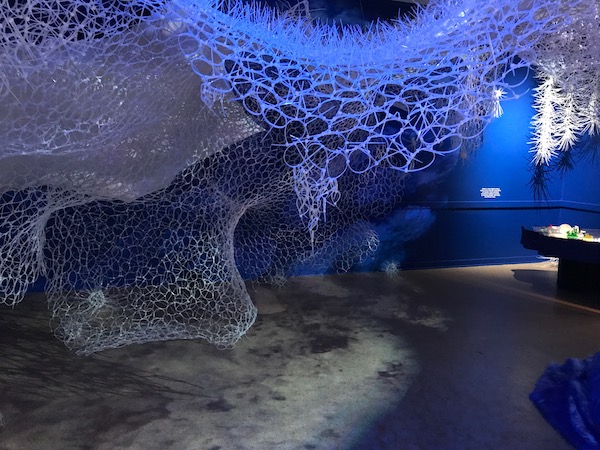 August Art is Hot!
MOAH and Gabba Gallery
We headed up to MOAH on Saturday, where it wasn't just the summer wind that was hot in Lancaster.
While Snezana Saraswati Petrovic continued her lush ocean-centric installation at MOAH: Cedar, the main museum featured a diverse collection of painterly curation in the LA Painting exhibition opening.
A large crowd roamed the museum, with most visitors starting by remarking on "the amazing scale" of Erika Lizee's towering installation stretching from the museum's cavernous ceiling to lobby floor; moving on to David Allen Peters highly textured abstracts; and the large-scale abstracts in the Five Year Survey in the main lower-level gallery. If these works were all about the blossoming of color and texture, even more so were upstairs exhibitions. Large and vivid with color, the collaboration between curator Amy Kaps – in a dress just as astonishing in its colors as the exhibition art itself – and artist Kaye Freeman made an upstairs gallery blossom with wall-sized paintings and mixed media pieces.
Elsewhere upstairs, stellar examples from the museum's permanent collection vied for viewer attention with an interconnected, extended small canvas exhibition, Circle of Truth.
Attendees perused the art on the walls, but commented most on an exhibit in the center of the gallery, "The Crate." That crate, shipped to each artist, contained a blank canvas, instructions, and a work by a previous artist meant to inspire the next artist; it was built to withstand repeated travel, and in fact, traveled more than 22,700 miles. Overheard: "That's more miles than I drove on LA freeways in the last 5 years." Curated by Laura Hipke and Shane Guffogg, 49 artists created 49 different works over a period of 9 years in a game of visual "telephone," according to gallery notes.
Heading back to LA, at Gabba Gallery, Remix: The Art of Music also played to a packed house. More than 60 artists, inspired by music, produced a wide range of works relating to or paying homage to, different musical artists. A portion of every sale was donated to help fund arts education in elementary schools. Guests enjoyed ample servings of Fort Point Beer and Tito's Vodka while taking in works by Obey Giant, Kate Carvellas, Skye Amber Sweet, Jermaine Rogers, Shlome J. Hayun, Jennnifer Korsen, Stephen Levey, actor and artist Val Kilmer, and so many more. Exhibiting artists and guests mingled with gallerists Jason Ostro and Elena Jacobson, discussed the importance of introducing art to young minds early, then stepped outside to enjoy a street taco or two.
Great art, a good cause, and street food – now that's a hot summer in LA.