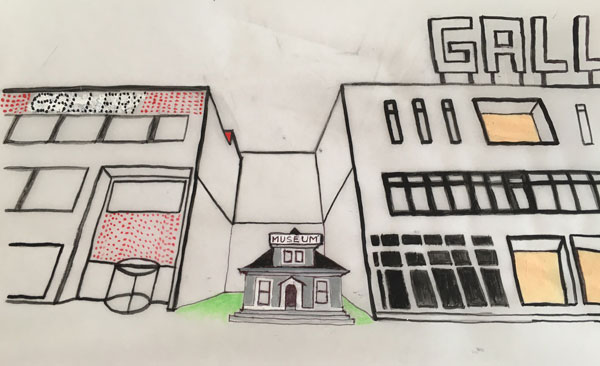 ASK BABS: Etiquette for Artful Living
Is it a gallery or a museum? It's all so confusing!
BIGGER IS BETTER
Dear Babs, I went to the inaugural opening of Hauser Wirth & Schimmel here in Los Angeles. Seeing the sheer magnitude of the new mega gallery as well as the crowds it brought out made me wonder what it would mean for LA. Are these gallery/museum line-blurrers good for business? Or do they spell disaster for smaller galleries?
—Melanie, Los Angeles

Dear Melanie, Yours truly was actually able to make it to the opening as well, and I know what you mean. An atrium with an outdoor restaurant! A sculpture garden! A bookstore! Open on Sundays! I did feel like I was at a museum and was amazed at the diverse crowd in attendance, and wondered to myself, how should all these people behave in this situation? This is new territory, and we should tread lightly. HS&W is most likely a gallery that does not don red dots, and don't bother asking for the price list (though those days are diminishing everywhere). But to answer your questions specifically, the smaller galleries always struggle, as there will always be bigger names, bigger galleries, bigger art stars. That's just reality. I think we need to look at the bigger picture. Most of the works from the HW&S current exhibition were on loan from major institutions, meaning they are not for sale (or are they?). The exhibition was also curated by professionals, with a catalog. This is museum behavior. Big name galleries and museums have always been bed partners, and becoming more and more cozy. Time will only tell what that really means for the future. You can count on one thing for sure, art is big business.


WEST SIDE STORY
Dear Babs, Why don't Easterners take the LA art scene seriously?
—Andrew, Los Angeles

Dear Andrew, I'm going to just assume you are referring to New York. New Yorkers are always comparing their city to LA—almost obsessively. I think they are just jealous, because believe me, they take the LA art scene very seriously. You don't got nothin' to worry about.