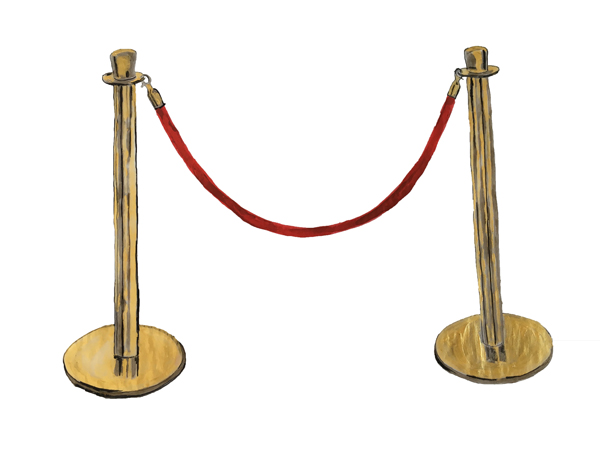 ASK BABS
Etiquette for Artful Living
A DAY AT THE MUSEUM
Dear Babs, I would like to know if the Los Angeles County Museum of Art has turned into an elitist institution with exhibits only to be viewed if you have the money? Recently, for my birthday I wanted to visit LACMA to see the Mapplethorpe show, Reining Men and the Rain Room. General admission was $25; the ticketed shows (Mapplethorpe & Reining Men) were an additional $25; the Rain Room ticket an extra $30. Add $12 for parking; total cost $92. That is very pricy for an afternoon at the museum. It hardly seems right to the millions of taxpayers (myself included) who built the museum in the first place and continue to support it. Not fair!
—Lynda, Silver Lake

Dear Lynda, Sadly, more and more it has become obvious that art is for the elite. Museums should be free, or at least an affordable price. The high-dollar entrance fee definitely makes it hard for the hoi polloi to enter a museum. Ninety-two dollars for a day at the museum is unacceptable. I wish I could offer some advice that would make this depressing fact go away, but I'm afraid I can't. Purchasing a membership to the museum does make more economic sense, and I urge you to do that. And please fill out their suggestion box and continually complain. If enough people grouse, maybe the museum bureaucrats will begin to bend. Good news is that recently a few museums in LA are implementing free admission: The Getty, the Hammer and The Broad. Most major museums offer free nights, at least once a month—albeit the ticketed shows would not be included.

SHOW US YOUR WORK
Dear Babs, I'm a sculptor and my artworks are taking up too much space!  They're not that large, but I'm running out of room and don't want to get rid of them. Who knows, maybe someone will want to buy them someday. What should I do to contain them?
—Herman, Los Angeles

Dear Herman, Start showing those sculptures! Now that you have a body of work, get some studio visits. Hit up friends, colleagues and art dealers. Go out to shows, see where your work might best fit. Try to get in group shows if you haven't had your own show. Have a garage sale if that doesn't work. The whole idea of making art is to show it. Now get those Rodin's out there!