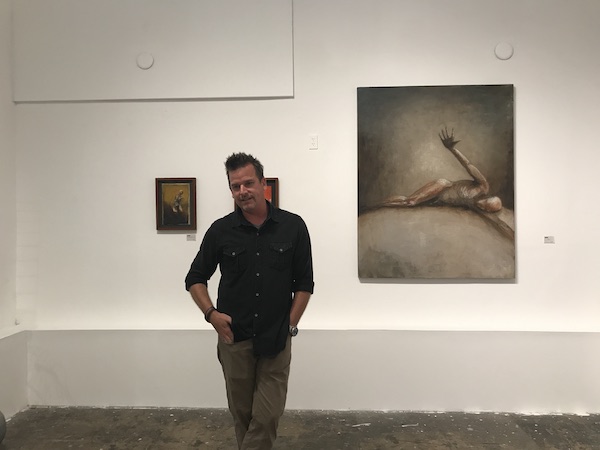 Art Beyond the Red, White, and Blue
Alfa Romeo Tango; Shockboxx; MOAH, Shoebox Projects
Yes, it was a holiday weekend, but the art flag still waved after the fireworks and BBQ subsided.
On Saturday at the Alfa Romeo Tango Gallery aboard the battleship U.S.S. Iowa in San Pedro – a perfect patriotic location for the holiday – Kio Griffith's CORAL SEA, The Unsung Battle of the South Pacific debuted with a lively reception.
As the artist explained, the exhibition was "closely tied in with the bi-cultural lineage of the American and Japanese sides of my family history." Curator Ben Jackel noted that the exhibition included both photographic images of Griffith's own family as well as his fascinating blueprint graphic prints of hybrid war machines, a hybridized Japanese castle and superstructure of the IJN battleship, as well as postage stamp-styled graphic prints, and a graceful wooden sculpture representing a battleship propeller. The exhibition is the third in a trilogy of exhibits Griffith exhibited this year, focused on the surprising elements of beauty in the all-too-real game of war. Guests sipped wine, Tecate, and mineral water; noshed on veggies, chips, and cheese, and mingled at a location of which couldn't be any more perfect for the exhibition's content.
Heading north to Hermosa Beach, artist Scott Meskill closed his solo show at Shockboxx gallery with an insightful art talk to a curious crowd of attendees. His sinuous, slightly ominous sculptures and lush sepia-toned dark palette drew questions about his theme and relationship with today's social and political climate. Meskill laughed that "My own mother doesn't understand why I don't paint flowers." Describing his theme as perseverance, he describes much of his sculptural material as "salvaged and reclaimed." Gallery co-owner Mike Collins noted that Meskill was one artist who had long supported the gallery and one he supported in return; clearly, the engaged standing-room crowd agreed that relationship should continue.
At MOAH: Cedar, artist Snezana Saraswati Petrovic opened her spectacular immersive installation Collateral Damage. The three-gallery exhibition, created of woven plastic sculptural elements, the artist said was intended to bring awareness to the warning signs of environmental disaster, nonetheless using "playful interactions with different kinds of beauty…in a possible post-apocalyptic plastic-fantastic-future." With gallery walls painted dark blue, Petrovic hung white plastic weavings that evoked the sea itself, and crafted mysterious plastic creatures, enhancing the works with projected oceanic images. Viewers explored the gallery both Saturday night and throughout the weekend, plunging into this surreal and lovely "sea" from the Lancaster heat.
And, Sunday evening at Shoebox Projects, Amanda Maciel Antunes closed her own immersive exhibition, Before Language, with a haunting performance and installation that took her a month on-site to conclude. The work incorporated recycled objects contributed by visitors throughout her residency in a graceful, moving site-specific work that offered an almost-ethereal discussion of the "system of language and behavior." There was wine, too.
Photos by Genie Davis unless otherwise noted.