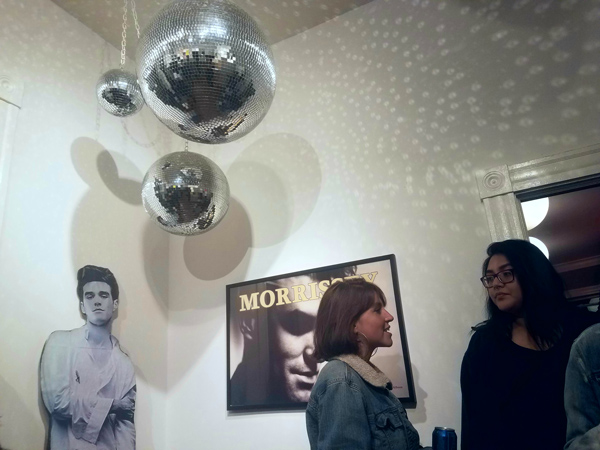 Women of Brazil & The Smiths
Gallery 38; These Days
I began the evening feeling like a time traveler. Gallery 38's PST LA/LA opening had long been in my Google calendar, but I didn't confirm their address until the day before. Turns out, it's right in my old neighborhood. Since then, galleries and eateries have popped up over there that didn't exist when I called it my home.
I was pleasantly surprised by the warmth of the gallery's space, the people there and the art on display. The place has a very community-based vibe, and the vintage valise I was toting that evening—a gift from my mother—turned out to be quite the conversation starter. Soon I was joking around with a group of muralists as if I had known them for years.
 People were there to scope out the art from J Michael Walker's solo show "Pages from a Bahia Diary"— a tribute to the people and history of northern Brazil. I had a great discussion with him, during which he explained the impetus for this body of work: his residency at Instituto Sacatar and the colonial diary that had been gifted to him before he arrived there. They are mainly works on paper, and they are so celebratory without being fetishistic and overly romanticizing, I almost couldn't believe they were made by a white man. He must be a great listener. Pay attention, you artists who really need to make art that depicts people of color and you're not one of us: first, you must listen. Hardcore. First.
After some time spent rubbing elbows, I hopped on a bus across town to These Days gallery in DTLA to check out their party promoting rare prints produced from 1985 through 1995 by British band The Smiths and Morrissey.
The music was bumping and a few people even got their dance on. I can't stand Steven Morrissey the person, but I do still love The Smiths. Great grooves. I found myself geeking out on not just Smithy arcana, but also the art books, zines and artist-made wares that were available for purchase. These Days is both an exhibition space and a shop. I need to step up my financial ambition; my eyes were much bigger than my wallet has been in a while, and I want some tasteful adult Things in my apartment, dammit. Everything can't be IKEA all the time.
I got to meet Jodi Zeigler, one half of These Days' ownership; my vintage valise being an important topic again. It may just be my lucky charm. It looks like she and her husband Stephen Zeigler run a tight ship over there. The current exhibition has been up since September 7th and judging by the all the red dots in the catalog, sales have been going great.
I left before the party ended, because I'm a fuddy-duddy 75% of the time and my bed was calling me. When I made it home, I felt very positive about the evening I had just had. I write this with the domestic terrorist attack on a Las Vegas concert fresh on the nation's mind, and having had to "shelter in place" in the back of a Trader Joe's near USC just hours later because of an active shooter false alarm. I have no profound words of unity or togetherness. America's gonna America. What I can say, however, is that I hope you realize the value of living in the present moment. The next time you go to an art party, really experience it with every fiber of your being. Try to be fully present on your next gallery visit. Party with purpose. Good clean fun will save us from ourselves. For a little while, at least.
This Last Night column is a follow up companion piece to Artillery's Instagram Story #ArtilleryTonight. Make sure you're following @artillery_mag on Instagram so you don't miss the next one.