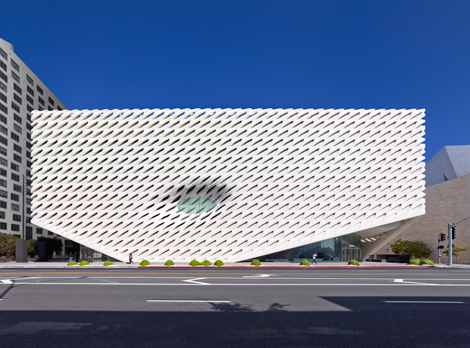 SHOPTALK with Scarlet Cheng
The Broad; NEA Commissioner Chu; Gallery Moves
The Broad Is Here
Inaugural Show is a Highlights Survey
Here comes The Broad! The striking white cube with diagonal perforations holding the contemporary art collection of Eli and Edythe Broad finally opened to the public on Sept. 20—after a delay of nearly a year due to fabrication difficulties for the "skin" of the building. (The components are made of fiberglass-reinforced concrete.)  While some grumps find the collection to be too predictably Big Works by Big Names (including Koons, Basquiat, Sherman, Fischl), it's a most generous gift to Los Angeles from the Broads. They have called this city home for over five decades. At the preview, Eli Broad said that LA was "the center of the contemporary art world." Mayor Eric Garcetti added, "Few dispute the best creatives are here."

The Broad Foundation owns some 2000 works of art, and the inaugural show is a highlights survey, over 250 works in all media, including the installation of Yayoi Kusama's ever-popular "Infinity Mirrored Room." Admission is free. Yes, that's right, free. There's an online booking system (check out ticketing.thebroad.org/general-admission), or you can try your luck and show up. I met one visitor from Japan who couldn't get online booking (as of this writing, the next available tix are a month-and-a-half away), and waited an hour to get in. She was glad she made the effort. Currently, some 3,000 people a day are touring the Broad—and that sounds like success.

Opening week was jammed with a large press conference drawing journalists from New York, Europe and Asia, and two swank dinners which drew from both the art world and the Hollywood world—even Bill Clinton showed up on Friday! I was impressed with how patiently and tirelessly Liz Diller, of the New York architectural firm Diller Scofidio + Renfro, talked about their design of the museum. In addition to providing exhibition space, they also had to design storage for the collection. They decided, Diller said, "to turn a liability into an asset." So the collection is stored in the core of the building, which can be glimpsed through apertures in the central stairwell. The "skin"—what she calls "the veil"—of the building prevents direct sunlight from hitting the art, while giving it a sense of porosity. "Over time I've become less ironic, and more earnest about Los Angeles," the architect admitted.
NEA Commissioner Chu visits LA
In September the head of the National Endowment for the Arts, Jane Chu (pictured above), came for a whirlwind tour to see some of the projects benefiting from NEA grants, especially those given to the Department of Cultural Affairs. The latter grants are meant to help establish "a series of site-specific cultural events that address the goals of improved educational opportunities, economic development, neighborhood safety and livability." Chu crisscrossed the city, from a tour of the Great Wall of Los Angeles with Judy Baca and Debra J.T. Padilla to a tour of the Neutra VDL House in Silver Lake, where grantee Design of East La Brea sometimes hold its events. A look at the list of recent grant recipients shows the range of NEA support—from small organizations like Design of East La Brea and LAXART to Inner-City Arts, East West Players and LA Opera.

The NEA will be celebrating its 50th anniversary next year—some thought it would never make it, as over the years it has been target for arch-conservatives who don't believe the arts should receive public funding. (Artists are really deviants, right?) Chu is a very personable bureaucrat, with degrees both in music and in business administration. She was born in Oklahoma of Chinese immigrant parents, and speaks with a soft but definite Midwest accent. Yes, there were past problems, she acknowledged, "but the NEA is on pretty solid ground these days." Her agency will be announcing some new initiatives for the anniversary, so stay tuned!
GALLERY MOVES
Downtown and Down South

More are joining the cultural exodus to Downtown LA. Last time we mentioned that Manhattan gallery Maccarone was establishing an outpost here (well, Boyle Heights, actually, which is downtown adjacent), and the news actually made The New York Times (Sept. 16), which is finally paying some serious attention to culture on the Left Coast. Also in September,  Royale Projects from Palm Desert opened at 432 South Alameda, with a show by Ken Lum. Next up is a solo show featuring Phillip K. Smith III (opening Nov. 21)—he of the now-famous lit-up homestead cabin, "Lucid Stead," out in the deserts of Joshua Tree that Yours Truly wrote about a couple years ago. It's not clear what will be in "Light + Shadow Works," Smith's first solo in LA. The press release says, "Their pure white forms rely unabashedly upon the minimalist interplay of ambient light and shadows to create their visual impact." Hmmm…  Anyhow, welcome, Mr. Royale!

After moving out of the Pacific Design Center earlier this year, Jae Yang opened up a pop-up in the Arts District in September as well. She installed her Artmerge Gallery in a cool warehouse space on Seaton Street. "Myself/Them" a solo by South Korean artist Jin Young Yu was the opening show. Yu made whimsical and unique sculptural work using press-formed plastic and featuring a sad-eyed, anime-like character that apparently resembles the artist herself. Each grouping of figures included a pet dog or cat that seems especially sympathetic to her owner's plight in modern life.

Meanwhile Fabien Castanier Gallery is making a bigger jump, across hemispheres, literally. Having done well in its Culver City location (since May 2014), the gallery announced that it's time for expansion—to Bogotá, the capital of Colombia. Their second gallery is located in San Felipe, the city's emerging arts district, and they want to build relationships with Latin American artists and a new clientele. Their first show there is a group show, "Dando Papaya," with Ludo, JonOne, RERO, Speedy Graphito, Fidia Falaschetti, Tilt and Mark Jenkins.