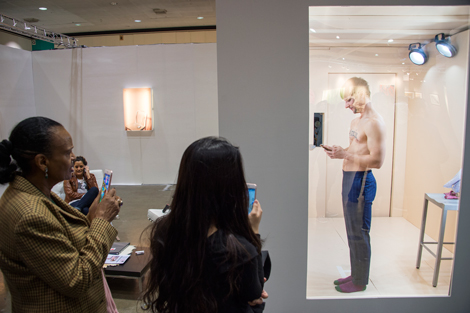 SHOPTALK
LA Art Fairs; Gallery Moves; Bake Sale
LA ART FAIR ROUNDUP
More fairs, Au Revoir PARIS PHOTO
Art fairs, and yet more art fairs in January. There was the usual roundup—photo l.a. (Jan. 22–24), L. A. Art Show with all its components (Jan. 27–31), and Art Los Angeles Contemporary (ALAC, Jan. 28–31)—plus newcomers Fabrik (Jan. 29–31) and Startup (Jan. 29–31) and the breakout of the Los Angeles Fine Print Fair (Jan. 22–24) from the LAAS into its own at Bonhams in West Hollywood. First up was the 25th edition of LA's longest running fair, photo l.a., which managed to get a goodly crowd at the opening and over the weekend. The fair has an especially robust programming component—what with workshops, seminars, and the Point of View exhibition of works selected by collectors. (Disclosure: Yours Truly writes up the text blocks for that special exhibition, looking into how collectors get into collecting photography and why they chose the print on view.)

Galleries have been polarized between photo l.a. and Paris Photo LA—the former getting smaller galleries and more experimental and projects-based work, the latter getting big, high-profile galleries. So it's good news for photo l.a. that its competitor has just (finally!) announced that it's giving up on our fair city. Jean-Daniel Compain of Reed Exhibitions France, which runs Paris Photo, said in a press release, "Despite the impressive mobilization of the city of Los Angeles, its galleries, cultural institutions, and collectors, and notwithstanding its great potential for cultural development, the absence of a mature market in terms of art fairs of this scale and scope has driven us to make this difficult decision." Truth is, it was clear that Paris Photo LA had lost much traction last year—a number of those big, high-profile galleries did not return for the third edition of the fair. There were sales, but lots of grumbling—dealers simply were not selling well enough to warrant paying for PPLA's ultra-expensive space on the Paramount backlot. One dealer at photo l.a. said her costs for participating this year were a fraction of participating at PPLA—less than half. 

The L.A. Art Show has continued splitting the fair up into sections—that's smart, as the fair is now too big to comfortably cover in one go, and serious collectors really just focus on one or maybe two areas of collecting. Officially, one part (the larger part) is the L.A. Art Show with its focus on Modern and Contemporary art, and the other part is the Los Angeles Fine Art Show with its traditional painting, jewelry, icons, etc.

My favorite section of LAAS is Littletopia, with about a dozen smaller galleries featuring lowbrow and Pop Surrealistic art, often drawing a younger, hipster crowd to gawk. This year it was set off by a custom-built archway. One exhibitor, with a hand-painted sign saying "Killduff's Bakery," was selling small paintings painted on the spot by an artist—crude but luscious paintings of croissants, cakes, loaves of bread. Further along was more bakery-inspired art at Think Tank Gallery, which featured a mini-funhouse by Scott Hove. Walking in, you were faced with mirrors and surfaces dizzily trimmed with pastel icing and piped decoration—the kind you might find on a wedding cake. (These are Hove's own concoction of paint mixed with spackle.) On the walls outside were some of his "cakes"—cakes in the shape of guns, cakes with a threatening set of incisors snarling at you. This installation was a tempting taste of his upcoming show at Think Tank Gallery in downtown LA.

Also in Littletopia were the weirdly wonderful paintings and assemblage works at Red Truck Gallery. Since the last fair I had a chance to visit the gallery in the French Quarter in their hometown New Orleans, where it was wonderful to see an extended selection. Another return was artist Kazuhiro, who brought his latest creation, a showstopper. He's become known for making oversized busts of famous people—"People I admire," he tells me. This time it's Frida Kahlo, in all her intense monobrow beauty, held up by two giant metallic hands. Kazuhiro was a special effects makeup expert in the movie business, and now plies his trade on these astonishingly realistic heads—painstakingly inserting individual hairs, creating skin pores, painting the skin in living color. In the past he's done Dali, Warhol, Abraham Lincoln, and when asked if he would ever do a woman, he had said that a big woman's head would seem grotesque. Well, now he's done one and I think he's at the top of his game—this Frida has intelligence flaring from her liquid brown eyes, and exudes extraordinary magnetism.
GALLERY MOVES
We are so very sad to hear that Offramp Gallery is closing. For years Jane Chafin has provided a comfortable venue for mid-career and established artists who made work well worth seeing (and collecting) but may not have been trendy enough for the Culver City galleries.

One door closes, several more open… we have more new galleries for our art-viewing pleasure—DTLA continues to experience a boom, with two new galleries opening at the end of January. Jason Vass moved from the West Side and opened on East Sixth Street with a show by Mark Dutcher. Parrasch Heijnen opened with a survey of the work of Ken Price, who was one of our leading artists working in ceramics. Since 1986 Franklin Parrasch has been a fixture in the New York art scene and now he's partnered with Christopher Heijnen, who has been a rep for him in these parts since 2012. It took them a year to find suitable space, and it is a 5,000 square-foot building on 1326 South Boyle Avenue, includes a sculpture garden and parking. The focus will be on LA artists and those with a connection with those artists and/or LA art—that covers a lot of territory.
LET THEM EAT CAKE
Think Tank Gallery has transformed their 7500-square-foot events space in DTLA into a colorful funhouse and lounge, for an ambitious month of programming with "Break Bread" (Feb. 13–March 13). "Break Bread" is an art show, an eatery, and a performance space.  There will be work by Scott Hove and Baker's Son, with Jacob Patterson organizing. Hove produces the luscious cake-decorated objects and installations mentioned here—that piece from the LAAS will be reinstalled, with expanded rooms to tour, some with a decidedly darker bent. (Artists do so like to be naughty… ) Baker's Son paints sublime watercolors of food—bread, cake, even Aunt Jemima bottles—Baker's Son is African American, and says that his family used to collect those items with gusto. Interspersed will be special dinners, brunches and performances by star chefs (Jonathan Tran, for example, formerly of award winning Uchi) and Cirque du Soleil artistes—these have different pricing levels, while the art show is open free during posted hours. They are in the bustling Garment District, look for the entrance midst retail stores—which I'm told 'twill be well marked for the event—they're on the second floor. Check all it out at http://www.breakbreadla.com.