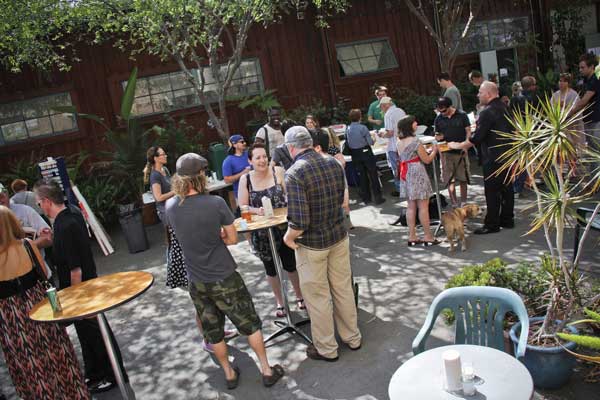 SHOPTALK
Santa Fe Art Colony; LA Louver; LA Art Fairs; Coachella Art Bienniel
HELP SAVE SANTA FE ART COLONY
The Santa Fe Art Colony Tenants—some 80 working artists —recently had a close call. Theirs is the only rent-restricted artists' live/work community in Los Angeles, and the clock was ticking down on their 30-year agreement with the Community Redevelopment Agency (CRA) of the City of Los Angeles this year. Fortunately, they got a reprieve, and the agreement will stay in place till Oct. 1, 2017, but of course the tenants continue fighting for something long-term. (The CRA no longer exists, but its functions and assets are being folded into city government.) 

Thirty years ago, setting up the Colony was a way of revitalizing the southern end of downtown. Today, DTLA has become the coolest place to be for artists and art galleries. "The artists here love the Santa Fe Art Colony—the history, the community, the artmaking," says Sylvia Tidwell, head of the SFAC tenant association. "But it's the pioneering aspect that's most compelling. It exists today in our DNA, and we want to carry it forward." Tenants have included Kim Abeles, Andrea Bowers, Lisa Adams and Francesco Siqueiros, founder of El Nopal Press. Here's where you can sign the petition to support SFAC—https://www.change.org/p/save-the-santa-fe-art-colony-dtla?recruiter=648942116&utm_source=share_petition&utm_medium=email&utm_campaign=share_email_responsive


CRAZY FOR STREET ART

In November L.A. Louver reached capacity crowds at the opening for "Roll Call," a show of 11 street artists curated by artist Gajin Fujita. An estimated 800 to 1000 people showed up, says one of the gallery's directors Elizabeth East, "perhaps the largest reception in L.A. Louver's 41-year history." And it wasn't the usual posh Westside crowd either, as the gallery was mobbed with young men in T-shirts and tattooes, while outside a row of very serious motorcycles was parked next to the busy taco truck. They were a most respectful crowd, however, politely standing in line to get an autograph or a photo with their hero, artist Chaz Bojorquez.

It was the first time Fujita curated. "I deliberately selected artists that have taken their practice from the street into the studio," he says. "They are a bit more refined in their work now." He included himself in the exhibition, showing several of his new paintings which are lively mash-ups inspired by traditional Japanese woodblock print with an urban twist. He admits that curating was "somewhat easier than I thought because all the artists are my friends, and everyone wanted to show at L.A.Louver as well."
 
ART FAIRS ON THE HORIZON
Hard to believe but January is around the bend again. And with it, our fair city's art fairs. The LA Art Show returns to the Convention Center from the opening party on Wednesday, Jan. 11, through Sunday, Jan. 15, 2017. The focus this year will be on Latin American art, a strategic tie-in with the Getty's next Pacific Standard Time cycle, PST:LA/LA, which takes place September, 2017, through January, 2018, at more than 70 cultural institutions in SoCal. The LA Art Show announced 90 galleries this year, down from the 100-plus a couple of years ago. Does this mean a bit of downsizing?

And don't forget Photo L.A., which will take place that same week at The REEF/LA Mart, from Jan. 12–15. It's the longest ongoing art fair in LA, and always has some interesting educational programming, with topics ranging from the aesthetic to the technical. I see there's a seminar on "The World of Inkjet Papers" offered by Eric Joseph of Freestyle, the photographic supply purveyors.

Meanwhile, Art Los Angeles Contemporary is at the end of the month, Jan. 26–29, still at the Barker Hangar in Santa Monica. And in February, if you're heading to the desert, the Palm Springs Fine Art Fair returns as Art Palm Springs, Feb. 16–19, at the Palm Springs Convention Center. No lists of exhibitors or programming available as of this writing, but this fair has been aching for a transfusion, so one hopes the remedies are beyond renaming.


ART BIENNIEL FOR COACHELLA

Desert X is coming in February—no, not a porno promo, but a new biennial that will present public art installations across the Coachella Valley. The project is the brainchild of Susan Davis, and is being curated by Neville Wakefield. The Desert Biennial, the producing organization, has been busy fundraising the estimated $2 million needed—money is coming from board members, individuals and corporate sponsors. Yours truly has heard that a hefty sum has been donated by Goldenvoice, the group behind the incredibly successful Coachella Valley Music and Arts Festival, which takes place during the April dates of this biennial. The biennial runs Feb. 25–April 30, 2017, and the actual list of artists has been hard to come by. Will Boone, Glenn Kaino, Sherin Guirguis and Tavares Strachan appeared at Desert X discussion at the Hammer on Nov. 30, and  Lita Albuquerque and Phillip K. Smith are said to be preparing their projects. Of the artists named thus far, only Smith is an actual resident of the area.