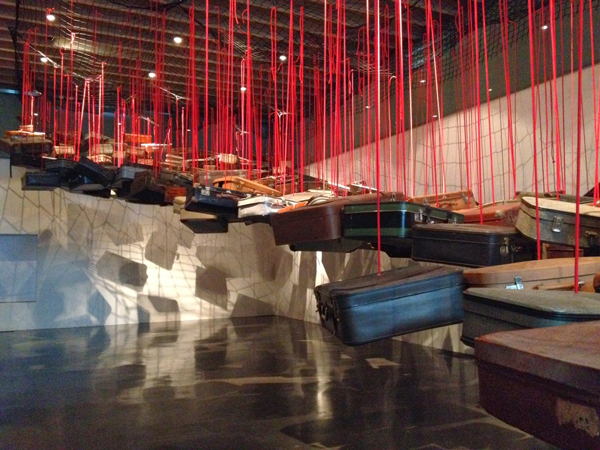 SHOPTALK
Art Basel; Current LA; Photo LA; Unions for Adjuncts
ART BASEL IS BIG
The Big Mama of Art Fairs
Art Basel is big, very big. The main event is on two levels of a circularly designed building at the Messe Basel complex, with the "Unlimited" section next door in a gigantic convention hall. A series of outdoor installations, called "Parcours," was situated around Münsterplatz, where Basel Cathedral is located. Starting June 12 with three days of previews, Art Basel boasted the participation of 286 galleries from 33 countries showing some 4,000 artists, drawing an attendance of 95,000 over seven days.  Some of our leading LA galleries made the trek, including Blum & Poe, Gagosian and Regen Projects.

Overall, I thought the Unlimited section by far the most interesting part of the extravaganza—it presented museum-quality installations and one-person shows, and it was actually curated.  Gianni Jetzer, on his fifth go-around with Unlimited, selected 88 works from many submissions. (By the way, these works were for sale, so Art Basel wasn't giving away free space.) Here I mention a few striking highlights.

I think many of us who traveled far to get to Art Basel could relate to "Accumulation: Searching for Destination" by Chiharu Shiota (Galerie Daniel Templon). This was an installation of old suitcases, suspended in midair by red string and looking as if they were about to go on their own voyage. "Mimed Sculptures" by Davide Balula (galerie frank elbaz, Gagosian) was a performance in which actors "mimed" the making of famous pieces of sculpture. One of the most sublime was the most simple: "Two Good Reasons" comprised of two dancing pieces of board, animated by artist Ariel Schlesinger (Galleria Massimo Minini). Through the magic of hidden motorized magnets, they spun around, reared up , flipped over each other, separated, then came back together again in an enchanting pas de deux. It was as good as any humanoid ballet. Better, if you ask me.

Ai Weiwei's (neugerriemschneider) stately "White House" was in the back, taking up a large piece of corner real estate. A dilapidated Qing dynasty temple-like building was disassembled somewhere in China, painted white, and reassembled here. Its pillars were placed atop glass balls, which reflected the world upside down. Ai Weiwei is an iconoclast, but he loves the traditional arts and crafts of China, and he often uses old furniture, pottery and artifacts in his work. Repainting some of those items, such as this one, might be considered a form of desecration, but he also revitalizes what would have been torn down and tossed away.
Monochrome was very IN at Unlimited, and a full-room install by Hans Op de Beeck (Marianne Boesky Gallery, Galleria Continua, Galerie Krinzinger) was in charcoal gray. Naughty Hans titled this "The Collector's House," a sprawling living room of a collector with a big bank account and a fearsome love of environmental control. Everything was in gray—furniture, grand piano, plants, books on the shelves, pictures on the wall, all gray, and you could walk around inside with your dirty shoes. (I wanted to, but the line was too long, so I gazed longingly from the doorway.)

The most ethereal artwork was perhaps "Canon," which was both a sound piece and a performance. Now and then I noticed mysterious bird calls trilling through one side of the Unlimited hall. Looking up, I saw a Chinese man dressed in what looked like a police uniform from pre-handover-to-China Hong Kong (I lived in Hong Kong during that bygone era). He was standing on a very high platform, and seemed to be falling asleep as he swayed back and forth, a microphone in front of him. Well, Hong Kong artist Samson Young is a very talented ventriloquist, and he was making these bird calls while barely moving his lips. This was a metaphor for something, perhaps the Handover and sleepwalking. In any case, "Canon" was one of the most impressive and original works in the show, hands down. Or microphone up!
CURRENT: LA; New Gal in Town; Photo LA
CURRENT: LA (July 16–August 14) is the first city-wide public art biennial. Produced by the City of LA's Department of Cultural Affairs, it has been funded to the tune of $2 million-plus, about half from a Bloomberg Foundation grant, but publicity was slow in coming. A press conference was held less than a week before the project launched, and details were slow to fill their website.

CURRENT: LA has taken on the pressing theme of water—and four curators selected 13 artists/artist teams to put art installations in locations in 15 districts.

Of course, it's a terrific theme—very topical in this time of drought—but from what I saw, the art was very uneven.  Along the LA River on opening weekend, I felt blah about Mel Chin's half-baked project "The Tie That Binds" in the area called the Bowtie. It proposed to place "mirrors" of drought-resistant gardens all over LA—by offering plans for 10×10′ gardens Chin designed with landscape architects to those who pledged to build them. Was there any thought given to the cost of executing such plans? That reality would seriously limit participation. On the other hand, I loved Kerry Tribe's "Exquisite Corpse," a meandering and beautifully made documentary about her discoveries while wandering from the beginning of the LA River in the San Fernando Valley to its Pacific terminus. Tribe introduces us to some of the quirky and delightful characters that make up the crazy quilt of this great city—during nightly screenings at Sunnynook River Park.

Another New York gallery will be joining us here in LA. Garis & Hahn Gallery launched with a pop-up exhibition at O Gallery, "Hand Cut Paper with Collage," a solo by Samuel Stabler from July 21–28. As of this writing, they're looking for a permanent room of their own, and hope to set up in early 2017.

During an August 3 reception, Claudia Bartlett of Photo LA and Cat Jimenez of the Lucie Foundation announced their upcoming collaboration. In the next months they'll be working together to organize "Converge," 11 days of programming that will coincide with Photo LA next year (Jan. 12–15, 2017 at the Reef/LA Mart).
CAMPUS CONTEST
Unions Get Foothold in LA Art Schools
For faculty as well as students autumn means back to work. But for adjunct faculty at two Southern California campuses, this September means back to the bargaining table.
Part-time faculty at the University of Southern California and the Otis College of Art and Design have opted to organize under the auspices of the Service Employees International Union (SEIU), but neither have yet agreed to a contract. Talks are scheduled at both schools.

The new bargaining units are the fruit of a three-year drive by the Service Employees International Union to organize colleges—and especially part-time faculty—at campuses across the country.

Early victories were scored at Duke, Tufts University, Boston University, and in Southern California, Whittier College.
While organizers were seeking certification from teachers of all stripes, the union brought special attention to bear on art schools. Last year the union won the right to represent adjunct faculty at the California College of the Arts, in the Bay Area, and at the San Francisco Art Institute. They were thwarted, however, at CalArts in Valencia.

The organizing drive at USC was closely contested. Federal labor officials ruled in April that school administrators had "engaged in conduct that was so aggravated as to create a general atmosphere of fear" surrounding the union election. In a subsequent ballot, in June, faculty at the Roski School of Art and Design voted to join the SEIU, as did instructors at the USC International Academy. However, the largest bargaining unit in play, non-tenure faculty at USC's college of arts and letters, voted against unionizing.

The Roski School was rocked last year by protests, and lost much of its entering class—and several prominent full-time faculty—in the face of conflicts with the administration over the school's direction. But the school has secured a full complement of eight MFA students to begin the new school year, and is hiring several new full-time faculty to teach them.

Talks with the new bargaining unit for adjunct faculty are on hold, however, as university administrators are contesting the legal standing of the part-time instructors. The dispute awaits a ruling from the federal National Labor Relations Board.

At Otis, part-time faculty voted to form a bargaining unit last year, and contract talks opened this spring. The issues there are similar to those facing adjunct professors across the country: job stability, low wages, and tight schedules. "We deliver 75% of the instruction and we get 25% of the pay," said Sara Daleiden, an adjunct professor for the past six years. "The situation is really ridiculous."

Despite several rounds of talks, the parties remain far apart. Administrators at Otis have offered raises of 10% in the first year with smaller increases to follow, for a total raise of 18%. But the teachers are seeking parity, on an hourly basis, with the full-time faculty, which would mean roughly double the current wage.

Such an increase would require substantial concessions from Otis, however, where annual tuition and fees already top $40,000. Daleiden, along with officials at the union, say they plan to hold out for significant additional concessions from the school, but some part-time faculty are feeling caught in the squeeze. "I think it's [18%] pretty good," said one instructor. "Double the wage sounds like pie-in-the-sky."
—Charles Rappleye