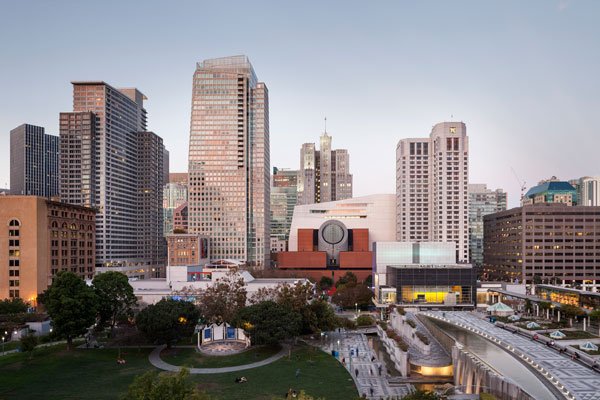 SFMOMA Gets an Art Recharge
And So Does San Francisco Art Scene
Shutting down a major museum for three years of expansion may seem like suicide, but the newly reborn San Francisco Museum of Modern Art proves it can be a great success. SFMOMA reopened to the public on May 14, preceded by several weeks of well-orchestrated previews and parties. The new 10-story wing designed by Snøhetta is brilliant, both outside and in. The white siding of undulating "waves" is sinuous and sculptural, evocative of ocean mists or, with its inset banks of windows, a great ocean liner coming to port. At night, it takes beautifully to lighting, a shimmering vessel of fine art.

"The design was certainly inspired by San Francisco," says Lara Kaufman, one of the Snøhetta project directors, "being a city with a harbor, surrounded by water." Snøhetta is often called a Norwegian design firm, and it's true their headquarters is in Oslo, but quite a few Americans worked on this project, both in New York and in San Francisco. Kaufman herself is American and trained at UC Berkeley.

The new SFMOMA boasts a total exhibition space of 170,000 square feet—surpassing that of MoMA New York—with a dedicated photography wing. Plus there is a multipurpose "white box" for lectures and performances, and, of course, museum shops and dining ops. The interiors of the new wing have been designed with generous expanses—high ceilings, movable walls, and enough variations to keep you intrigued. I especially delighted in the stairwells, some of them running along the outside wall, or with steps often changing widths as one scaled or descended them. The total cost was a hefty $610 million, which paid for construction, as well as providing for endowment and interim programming.

The inaugural show in the new wing highlights the quite extraordinary postwar collection of Doris and Donald Fisher, longtime collectors and founders of Gap, on two floors. In some ways this is a celebration of the unusual agreement the museum made with the Fishers to keep the collection for 100 years. (And then what? No one is sure.) The Fishers began collecting in the 1970s, displaying the work at Gap headquarters. They had an astute eye and a penchant for contemporary American and postwar German art, including Alexander Calder, Ellsworth Kelly, Roy Lichtenstein, Andy Warhol (of course), Agnes Martin, Anselm Kiefer and Gerhard Richter. Art hangs beautifully in these voluminous spaces. I was especially struck by the vividly colored Kellys—the installation done in collaboration with the artist before he died last year. On some walls there are  only one or two works. I loved the octagonal "chapel" dedicated to Martin—seven paintings hang in that space, with seating in the middle. It's wonderfully conceived, a quiet room off the beaten track to contemplate Martin's contemplative work, including the golden tones of Wheat (1957) and the grayish blue of Night Sea (1963). Incidentally, elsewhere there's a Chuck Close painting of Martin's craggy face, an 8-foot tall oil on canvas from 1998.

At the press preview, museum director Neal Benezra proudly pointed out that much is accessible without a ticket—the Richard Serra steel sculptures on the first floor of the Howard entrance, the central lobbies and the restaurant. Also, admission is free for those 18 and under (and a hefty $25 for most others). I find it's almost a shame the W Hotel remains on the corner, forcing the museum into an L-shape with one entrance in the existing Mario Botta building on Third Street and the new one on Howard, but in a city super-tight for space, it's a miracle the museum managed to get the contiguous space it did.