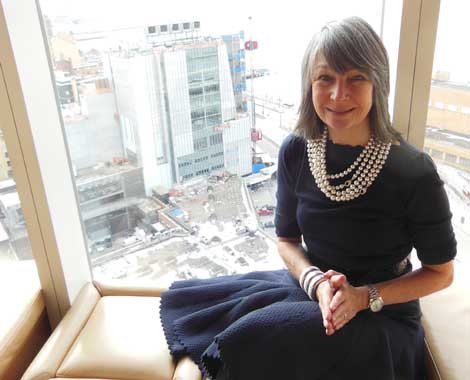 PRIVATE EYE
New York Collector Brooke Garber Neidich
Powerhouse Brooke Garber Neidich, scion of legendary Chicago jeweler Sidney Garber, inherited her father's business in 2008, and most recently made a splash with the jeweled silver swallows Mary-Kate and Ashley Olsen sent down the runway with The Row's Fall 2013 collection. Garber Neidich plans to expand Sidney Garber Jewelry to New York in Fall 2014, in a location near the uptown Whitney. But she has a business model as unique as her jewelry: she gives all profits to causes she believes in, including New York's Child Mind Institute, which she co-founded with psychiatrist Harold Koplewicz, MD, and the Whitney Museum of Art, where, as co-chair, she has been instrumental in the Whitney's move from crowded quarters uptown to a new Renzo Piano-designed headquarters downtown. In 2012, ELLE Magazine named her one of the Top 10 women in the art world.
We met on an arctic January day at the Standard Hotel, which "steps over" the popular High Line elevated park in New York's Meatpacking District. The top of the Standard, known unofficially as the Boom Boom Room—where Garber Neidich's restaurateur son Jon worked—is spacious and glittering, with a bar like a gold rocket at lift-off and pale leather banquettes. The sun poured in through floor-to-ceiling windows as we looked south over an icy Hudson River, the West Side Highway and the downtown Whitney building in progress, amidst meatpacking warehouses not yet converted to designer boutiques.
This is the last year the Whitney Biennial will take place at the Whitney Museum of American Art that New York has known since 1966; the Metropolitan Museum has agreed to rent the Breuer building uptown for a minimum of eight years, and the new downtown Whitney, at the intersection of Gansevoort and Washington Streets beside the entrance to the High Line, is due to open in late spring 2015… the biggest jewel of all.

Artillery: You started working with your Dad at an early age.
Brooke Garber Neidich: I wanted to be with him, but he was always at work. So I asked if I could come to the store, and if you were in the store, you were working—jobs appropriate for a child, like spraying the glass cases with Windex. I remember being there as early as six. By my teens, I was traveling with him to Europe, working with the artisans.

Sidney Garber jewelry is noted for its timeless, sculptural quality.
But I'm not an artist; my work is artisanal. There are artists who make jewelry, but I think anything an artist makes comes from a different place. And artists are different now; everyone makes everything. No one would call themselves a "sculptor" anymore. The art world is different now.

Look at Steve McQueen.
Steve McQueen's a perfect example. Kara Walker. Kiki Smith.

Define an artist now?
An artist now is someone with a passion to create and to communicate.

Do you think your art "eye" is inherited, or did your Dad consciously teach you?
My Dad had a fabulous eye—and he wasn't born into it, like I was. He had such an eye for detail, for quality, for choosing stones and pearls; I don't think that can be learned.
He didn't teach me explicitly, but what he did was ask questions. So many questions, even when it seemed like he should know the answers. As a teenager, I was embarrassed by all his questions! But that's how my Dad learned everything in his life.

How did you start collecting art?
We didn't have art at home. I liked museums, I bought little things at street fairs, but it never occurred to me to go to a gallery. I wasn't hanging out down at Holly Solomon. Wouldn't that have been great?
My husband Daniel and I started working with [interior designer and Andy Warhol partner] Jed Johnson, and he was a great mentor. We saw his office, which was full of art, and he was so passionate about it, we knew we wanted to find out about that. Beth Rudin DeWoody, who was on the print committee at the Whitney, said, 'You're collecting art now, you should join the print committee.' She brought me onto the committee, and that opened so many doors. I met dealers, I met artists, I met other collectors—the whole art world. Now I get to talk to wonderful curators every day.
So I've had a lot of great teachers, who gave me permission to collect what I like. I'm not building a collection in a disciplined way. I buy for love. If I like it, and I can afford it, I buy it. You can't hesitate. I do notice that what I like has a pattern—words, for instance.
I tell people, you don't always have to have the best of the best on your wall. Are you buying it to sell it? No. You're buying it to love it, so just plunge in.

Who are some of the artists in your collection?
I've collected Glenn Ligon for years, and Wade Guyton, thank goodness. Richard Tuttle, Kara Walker, Terry Winters, Kiki Smith, David Wojnarowicz. Ed Ruscha works on paper from the '60s, Grayson Perry, Gavin Turk, Bob Gober, Ellen Gallagher, Al Hanson. I have a fantastic Marco Brambilla of a plane taking off from LAX over and over, with '50s lounge music in the background. Jay Defeo, Joseph Kosuth, Josh Smith, Seth Price, Zak Pecop, Vito Acconci— and I'm dying for Lesley Vance and Etal Adnan! I used to collect internationally, before 2006. But after the recession, I made a commitment to collect American art. That's how the Whitney was started, you know. Gertrude Vanderbilt Whitney offered the Metropolitan her collection of American works on paper plus a million dollars, and they turned her down. They said, we have enough of that stuff in the basement.

How will the downtown Whitney differ from the uptown Whitney?
When the Breuer building was built, the largest work of art was [the size of a chest of drawers]. That's certainly changed! The downtown Whitney will have more wall space than anywhere else in the city, and look right out on the Hudson River. Renzo Piano, whose offices are across the street, is such a genius at using space. The gray boxes terracing off the back of the building are outdoor exhibition space, for sculpture and outdoor dance performances. We're using the same landscape architect as the High Line, so the High Line will step down and flow right into the front of the new Whitney, through a space we're calling our largo.

What are you most looking forward to at this year's Biennial?
Three guest curators, with three very different points of view, each with their own floor and not much artist overlap. The Biennial is always exciting, but I think this year's will be especially dynamic.