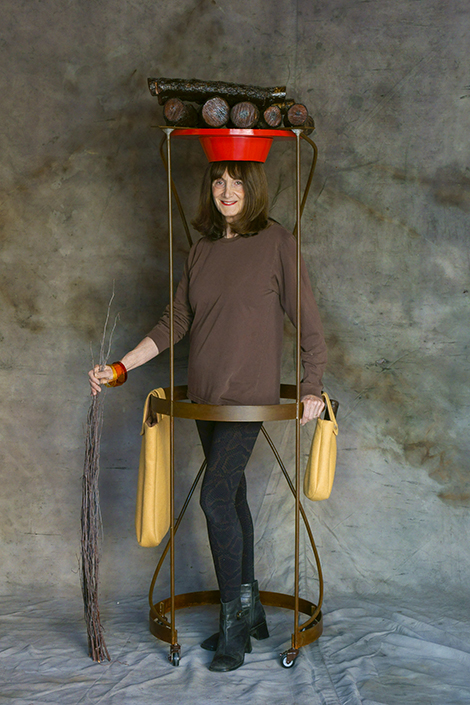 Phyllis Green
LAM Gallery / Los Angeles
Phyllis Green's "Walking the Walk" consists of sculptural works that also function as garments and performance props. Their use as such is documented by photographs by Ave Pildas with the artist posing and modeling each of the artworks. Toying with the idea of a high modern reductivist style the artist plays that off of a physical interpretation of the Mundaka Upanishad decree that advises initiates that the first step toward enlightenment is for individuals to approach a guru, or learned teacher, with wood (fuel) on their heads. Expressing a slightly comic but highly vulnerable sensibility, Green continues her exploration of craft, the body and ideas about the feminine without recourse to her preferred ceramic techniques.
In Red Hat (2015), a slender metal wire frame that proportionally matches Green's own body is surmounted by a red bowl-like head piece over which a tidy set of cast fiberglass logs is placed. Fitted with wheels and two oversized pockets, the sculpture is depicted in photo with the artist looking out at the viewer, holding a walking stick and ready to begin her trek to spiritual awakening.
Inspired by her travels to India, Green has created artworks that function as symbolic vehicles for the devotional rituals associated with the one Upanishad directive as though her art-making itself were a sort of protracted meditation on that same verse. The objects themselves have constrictions not unlike those of vessels in the ceramic tradition but they bend away from their functional usage, becoming carriers of a broader significance and metaphorical value. These sculptures become vehicles for rituals and meditation, merging humor and religious thought, presented with the necessary awkwardness of such a fusion in contemporary art practice.
Concurrent and complementary to the works at LAM, the Craft & Folk Art Museum is presenting the monumental figurative sculpture by the artist, titled Fall 12: Autobiography—Considering Charles Ray's Fall '91 (2012). The first work from this overall series of artworks, Fall 12 appropriates Charles Ray's iconic towering female figure Fall '91, and turns it into a self-portrait informed by Green's understanding of the Vedic principles of knowledge, service, meditation and devotion. At 97 inches in height the viewer feels much like they do in the presence of Ray's scaled-up stereotype of a 20th-century career woman: they relive the upward gaze of a small child. By substituting her own features for the impassive face of a mannequin and by draping its shoulder with a length of orange silk, a sari symbolizing fire and religion, Green turns the statue from being primarily a study in scale and posture to being a meditation on the role figuration can still have, even in an age where historical representation has been handed off to digital mediums. Captivated by the figures she saw in Hindu temples, the artist engages us in a query regarding the sense of statuary today, tweaking it just like she does with ceramics and that craft based tradition.