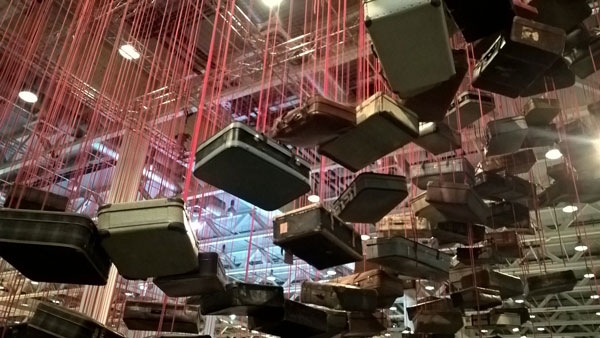 Notes from Basel
Exciting, and exhausting...
Art Basel is serious business, with some 280 galleries taking part—most of them on two floors of Building 2 at the Messeplatz, Basel's sprawling convention center. The action starts with two days of previews on Tuesday and Wednesday, before the fair opens up to the public on Thursday, June 16. On Wednesday while taking the airport tram into town, I met a smartly-dressed art consultant from London. "I'm taking a look at a few things for clients," she says. "It saves them time." That's true, browsing Building 2, and taking in the Unlimited section in Building 1, can be more than exhausting, and veteran collectors, those in deep enough to hire art consultants, will have areas of focus.
Perhaps it's not surprising then that many major sales were made during previews—a few may have been made even before. Sales by major galleries such as Hauser & Wirth, Van Doren Waxter, Cheim & Read, Mnuchin, and Goodman went in the six-figures-plus category. "The top galleries come here and bring their best things," said Deborah McLeod of Gagosian, looking around their busy booth at who's coming and going. "Some of us have already rehung. We always bring more work, so that as things sell, we hang new things."
Some of the most exciting work is in the Unlimited section, which is showing some 90 works of installation, performance and video. People are waiting in lines to see James Turrell's Cross Cut presented by Gallery OMR of Mexico and Hans Op de Beeck's "The Collector's House," a large installation of a luxurious library/salon decorated with "choice" paintings and sculptures—all painted in a nice gray—presented by Marianne Boesky, Galleria Continua and Galerie Krinzinger. Especially brilliant is William Kentridge's three-channel video Notes Towards a Model Opera, which takes tropes from China's Cultural Revolutionary operas, as performed by black South Africans. The latter is from Goodman (South Africa), Marian Goodman (New York) and Lia Rumma (Milan).
Photos by Scarlet Cheng