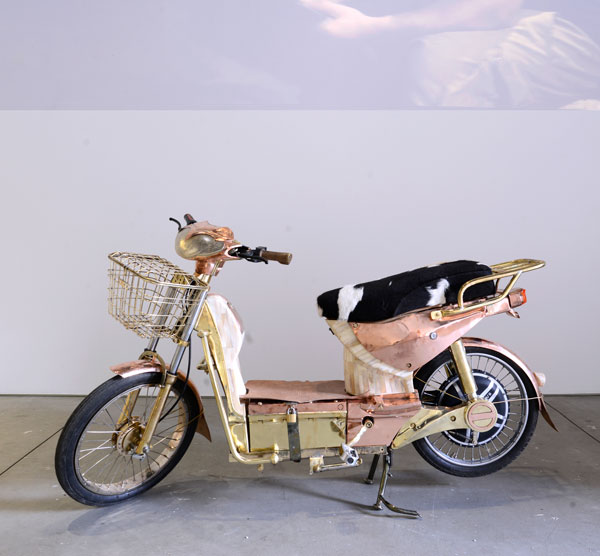 Nirveda Alleck and Eric Van Hove
Richard Taittinger Gallery, New York
Curated by Ugochukwu-Smooth C. Nzewi, and inspired by Anthony Kwame Appiah's Cosmopolitanism: Ethics in a World of Strangers (2006), the loosely Africa-centric, two-artist exhibition at Richard Taittinger Gallery, "Ethics in a World of Strangers: Nirveda Alleck and Eric van Hove," involves a public intellectual, a curator and two artists, all of whom have led very cosmopolitan lives. Continuing a focus on Africa that defined "Guess Who's Coming to Dinner?", Nzewi's 2015 survey of contemporary African art at Taittinger, the core theme for "Ethics," is an exploration of and supportive appraisal for the outlook and culture of cosmopolitanism—the idea that we are all citizens of a common human community that is sustained through mutual ethical understanding.
Juxtaposing the very different work of van Hove and Alleck, Nzewi's intention seems to be for a productive dialogue; both artists arguably start with a concern for community, with an aim towards clarifying and reconciling the tensions and interdependencies for the micro and macro, in an age of globalization.
Van Hove's sculptural installations, placed on pedestals and concentrated mainly in the front of the gallery, are overlooked by paintings from Alleck's "Continuum" series, which has been ongoing since 2006. These realistic, figurative works depict different populations–perhaps African locals, and European tourists. There are families, parents, children and older couples, with clothing giving away possible clues to their identities. Interestingly, the backgrounds in each painting have been completely erased, or have not been painted at all. One of its many effects is that the figures from any one of the paintings could be exchanged for those from another without much of a difference to either painting.
The effect of van Hove's engine parts assembled from local materials is that of a curiously charming Frankenstein-like creation. There is the obvious suggestion of connecting folk arts and crafts with modern technology, and a playful lifting of the veil behind the technology's characteristic façade of perceived perfection and artificiality. On a deeper level, the combination of folk arts and crafts objects, their long histories of tradition and development, with some of the most iconic productions of modern industrial production, stages the collision between two traditions, or cultures. After all, who would have thought, or deemed it rational, or efficient, to build complex machines out of non-machine-produced components? The works on view are commentaries ruminating on the relationships not only between periods of history, cultures and globalization, but also, evidently and notably, the European and African industries. The finished motorbike on view, the Mahjouba Installation (2016), is only one among many possible culminations of van Hove's investigations.
Van Hove's and Alleck's interspersed works call into question, indeed blur the boundaries between what we think of the local, with implications for how we identify ourselves, and who we feel a relationship with, potentially suggesting connections heretofore neglected or unimaginable, within an ever-increasingly interconnected, yet also unpredictable, world.