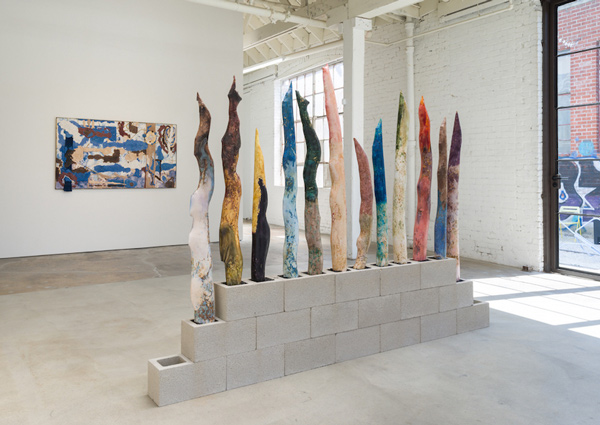 Ibid Gallery – Los Angeles: Timo Fahler
With three distinct exhibition spaces within its massive Boyle Heights gallery, Ibid Gallery has reserved its smallest space, a jewel box of a venue, for the most engaging work on view, an exhibition entitled "slow relief" (the title of this show and all of the works included are written in lower case). The work is inventive, if uneven—the sculpture that greets the viewer upon entering is an absolute horror show, and not in the Anthony Burgess definition—yet there are several efforts of an engaging and contemplative caliber. His sculptural efforts fall squarely within arte-povera orthodoxy, but his paintings (if they can be called that, they are mixed media works) for the most part, are refreshingly novel in their attempts to carve out an alternative and distinctive niche in painterly process.
An Okie from Tulsa with an MFA from UCLA, Fahler, alongside his colleagues Adam Beris and Thomas Linder constitute the Kansas City-linked posse BBQLA, a happening and exhibition space that includes the significant involvement of roasted meats, and Meatgrinder, a youth-oriented art laboratory. Fahler's work is equally lively and varied.
There are five paintings in slow relief of particular stylistic similarity that exemplify a unique idiom for the artist. They are titled walking, climbing, dying, falling, and the artist as court jester; all 2017. If this quintet could be compared to the legendary Las Vegas Rat Pack, the last two would be Joey Bishop and Peter Lawford (whom Sinatra derided as the "Brother-in-Lawford" because of his marriage to JFK's kid sister).
The real stars of this show are walking, climbing, and dying (Davis, Martin, and Sinatra). They are works of deft material invention and compositional mastery; nothing else in the exhibition comes close. Their titles liken the tragedy of the ages of man—of ambition, pride, and failure; their scale is human-sized, their imprint cartographic and incised with recollection; their structure is body on frame, flesh on skeleton. These paintings are gutsily corporeal and singularly memorable.
An odd coda to these works is nestled down the hall, all alone, near the gallery offices. A sort of swing-set of doom, it is titled carnalismo although the steel grid carries the word carnal. Whether referencing coition or corporeity (or both) is unclear, intentionally so.
Timo Fahler, "slow relief," July 15 – August 26, 2017 at Ibid Gallery, 670 S. Anderson Street, Los Angeles, 90023. ibidgallery.com