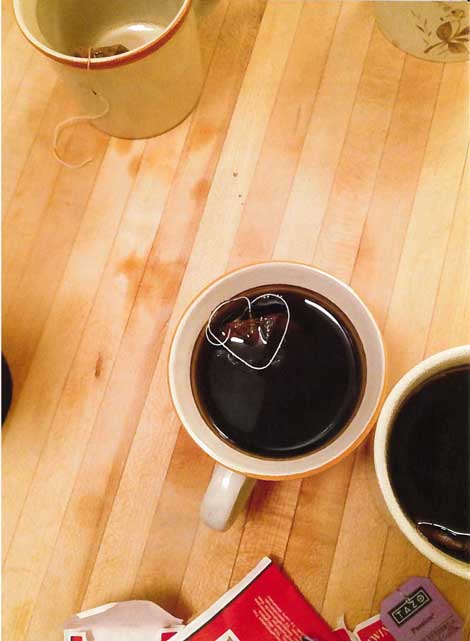 I HEART EVERYTHING
Drew Barrymore's special photographs
Find it in Everything
is a slight hardcover book, newly published by Little Brown and Company, featuring Facebook-style photographs by Drew Barrymore. You can find it on Amazon or even at the MOCA bookstore in LA. According to the back cover, Barrymore is now "a photographer." A biography mentions that her work has been exhibited at the International Center of Photography in New York (a claim that's difficult to verify on ICP's website).
"Hearts are my beacons," Barrymore explains in the introduction. And heart-shaped symbols are what you'll find in these black-and-white and color snapshots taken over the last decade. Barrymore discovers them in architecture and furniture, in stained or ripped clothing, in patterns of strewn trash or strange light reflections, even in the eyes of her dog.
Many pictures feature food: a string of sausage links, a bite in an apple, packaged raw tuna filets, a burst bubble in a pancake, a piece of scallion at the bottom of a bowl of miso soup. Her pictures remind me of Martin Parr's photography for their informal yet obsessive take on banal subjects. But that may be too generous a comparison.
The photographs in this book are amateur, and really there's not much point in wasting words on them. They are predictable; just do a Google Image search on "heart-shaped" and you'll see. But still, I can't help but think about the motivation behind this project, beyond a celebrity schedule that includes self-branding activities like playing an artist in actual life.
But as a viewer of her book, even for a fan of Barrymore-as- actress, the most interesting and telling picture is the one in which we see her physical presence. In this headless selfie, she is lying down, holding a script for The Three Musketeers, her dog beside her. Her sock-covered feet point toward a guitar with a heart-shaped opening. This is the closest Barrymore gets to an honest photograph that doesn't feel like part of a larger marketing campaign.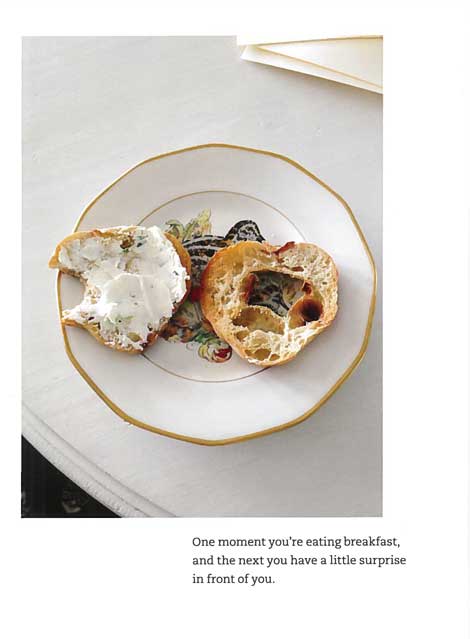 I have to admit: I like Drew. I've always suspected that there's a wry sense of humor hidden behind that sweet/saccharine facade. My favorite Barrymore role is the voice of Jillian, Brian's girlfriend in Family Guy (Brian being the cartoon's highly anthropomorphized family dog). So when I chose this book to review, it was in part because I am a fan of Drew's occasional irreverent side.
Despite the fact that celebrities get all the best breaks (stolen from those of us who work all our lives in a field they just dabble in so we can achieve less), nevertheless I've found myself caught up in the book's spirit. There's a sense of play, of wonder, of achievement in observing the world so closely. That is what artists are good at. The title of the book is a call to action: "Find it in everything." So as an experiment in trying to see the world like Drew, I am now making photos of hearts. Next, I might try acting.
All images by Drew Barrymore


The following slideshow is by Anne Martens, who was inspired by Drew Barrymore's book:
[slideshow_deploy id='9996′]
It was waiting for me to find it.I blame the title of Drew Barrymore's new photography book, 
Find It In Everything
—which I just reviewed for Artillery—for my recent impulse to chase vehicles on the freeway that have heart shapes in their advertising or on license plates. In fact I've been doing double takes everywhere, stopping to take pictures with my iPhone. I used to hate this insipid, cruel, in-your-face symbol and probably still do. But now, thanks to Drew, I can't help but ♥ everything. 
—AM