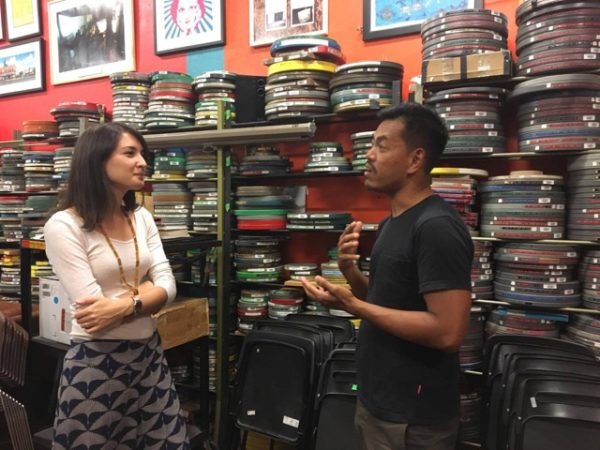 Ethnocinema at the Echo Park Film Center
Action! Cinema as Sanctuary
Can cinema be a safe space? This is the question that drove filmmaker and PhD candidate Nerve Valerio to curate the Action! Cinema as Sanctuary series at the Echo Park Film Center in the heart of Echo Park.
Following the election of President Trump, Valerio, like many of those feeling both distraught and a renewed sense of politicization, asked to the void, "What now?"
His answer: a series of politically engaged film screenings, covering issues pertinent to the experiences of immigrants, refugees, POC, LGBTQ+ folks, and more from around the globe.
The most recent screening last Saturday featured Nobel Nok Dah and For My Art, two ethno-documentaries by Emily Hong and co-directors Mariangela Mihai and Miasarah Lai, who make up half of the ethnographic film collective, Ethnocine. The two films explored the often unheard experiences of Burmese women refugees in the U.S. and Burmese women performance artists in Burma/Myanmar's former capital, Yangon.
I had come to the Echo Park Film Center on a whim, curiously wading through the small, intimate cinema/rental store/film library/workshop space alongside budding filmmakers, EPFC alumni, artist-in-residence Kaori Oda, and other inquisitive guests.
Though I was aware of Hong's work, as I had interviewed and finally met her in Yangon last year where I was working as a journalist and she was screening For My Art at the independent Wathann Film Festival, I had actually never seen her films in full.
In Nobel Nok Dah, which follows three Burmese refugees in upstate NY, Hong constructs a new kind of narrative form. Without a typical interview shot taking precedence, the audience becomes attuned to other aspects of these women's lives.
Foremost, their voices — shaky yet determined. Brief shots of B-roll offer a view of their lives in motion. One woman practices traditional Burmese dance. Another washes dishes, rides the bus. Another plays with her child in the forest, wishing her child only a happy life. Slowly, and in a somewhat obscure way of filming, I sensed the film was mirroring the women's own feelings of displacement and otherness.
This alluring and unconventional form of filmmaking prevailed throughout the night with the screening of For My Art, which follows female performance artists around Yangon. Watching the film was slightly surreal for me, as only months ago in Yangon I had met and shared meals with provocative explorer of gender, Ma Ei and artist-activist Zoncy.
When the screenings ended, Hong fielded audience questions ranging from film technique to Myanmar geo-politics. As the small crowd shuffled across the room and out the door, I thought to myself about the strange coincidences that led me here that night —Myanmar, the rise of Trump, and a fledging career in art writing… could there be no safer space than this?