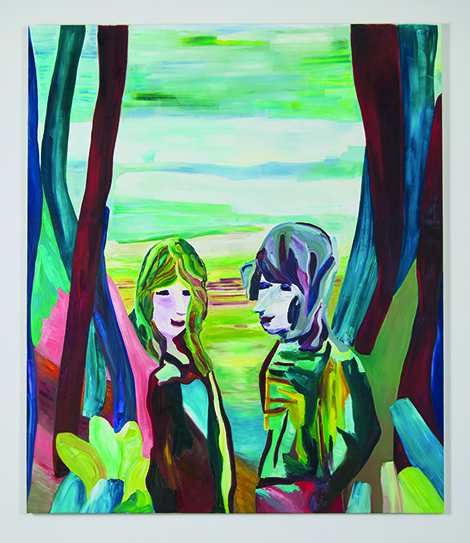 Edith Beaucage
CB1 Gallery / Los Angeles
An exploration of storytelling through the riotous use of color is at the core of this new body of work by Edith Beaucage. The figures dance about in light delineation embedded in a swirl of audacious swathes of color field painting. "Chill Bivouac Rhymes" is also the lively storyboard for the scenes from an operatic love story. She, Ekaterina, is the exotic young Bolshoi ballerina who, in the course of this tale, jilts her Russian lover after finding an entirely new and irresistible illumination while at a forest rave, and then runs off with her surfer guy until they both disappear into an explosion of light. To accomplish all this, the gallery is turned into a stage set replete with 12-foot prop-like trees, a sketched reclining couple both resembling a skeletal version of Manet's Déjeuner sur l'herbe, a billboard and numerous artworks. Ranging from very large canvases like the towering Rave Prose (all works 2015) to very small baked enamel on metal plates like Bohemian Lord Coming Out of the Wood, Beaucage develops her characters and lays out her plot in broad strokes.
In Rave Prose, which features preternaturally big heads that peer at each other in between immense slabs of oil slashes caught somewhere between being tree trunks and just pure painterly chunks, the story is left to the viewer's imagination. With By Morning We Jumped Into the Crisp Water, Beaucage sets the stage more clearly with a small group of figures emerging from a watery landscape. Beaucage's storytelling provides a guideline along which the artist walks and the viewer follows her adventures with paint. It tells us about where these chill rhymes began, but happily the recounting leaves enough space in its telling to allow the brush and the color to almost work against the more literal figurative line quality. The viewer therefore feels the tension the artist is seeking between the wordlessness of the paint itself and the almost comedic simplicity of the "characters" she has set out in her very loosely framed tale. The exhibition finds its paradoxical center in the juxtaposition of the relatively simplified figuration and the bold agglomeration of abstract painting techniques.
In Trip Rainbow, the viewer can see the relationship to abstract color painting in the form of the blue-green curvilinear God's eye and gently interlaced motifs at the center of the canvas. Then, as the eye ventures to the edges of either side of the painting and the more recognizable forms, it notices the dark haired ballerina clad in an orange-red bathing suit rising on the left and a drape of the same colors descending from the right, but beyond these figurative stand-ins it registers how closely aligned these two colored forms are to one another. It is only then that we understand how Edith Beaucage entertains the telling of tales in contemporary paint: it is a contradictory discourse, equal parts color pigments and figments of imagination.