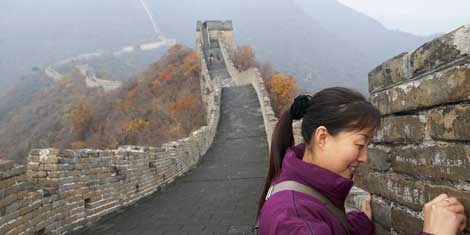 CURFEW
Blank Wall of China


Initial thought: this dearth of Chinese tags is because spraying out anything in Mandarin, even a name, would take 15 minutes. Or maybe because of China's use of lead-based paint all the graffiti artists in Beijing simply poisoned themselves off. I struggled for an explanation as I doubted the logographic absence was cultural or historical—Mao plastered walls with propaganda in the 1940s, continuing a tradition begun thousands of years earlier with Han Dynasty poets carving letters into boulders and branches; and in 140 AD, during the Yellow Turban Rebellion, thousands were executed for chalking onto government buildings  

Modern Beijing, with its surfeit of unattended (and often decaying) walls, is an urban artist's Nirvana. Yet it has even less graffiti than Broadway & Ord. LA's Chinese taggers, I guessed, must be the products of a post-Ai Weiwei PRC. In Lance Crayon's 2012 documentary Spray Paint Beijing—the director, and the "gaffers" working the streets put the number of urban artists only in the dozens, but not for expected reasons. Though graffiti is illegal, and fines average about 500 yuan ($81,) gaffers typically ply their trade in broad daylight, often in front of tourists, shopkeepers, even police officers. Chinese cultural censors have shrugged off graffiti or embraced it.

Last year, Yellow Crane Tower Park in Wuhan set up "electronic walls" where tourists can type/scratch their names, and earlier this year, to combat the growing issue of mark-leaving, the Chinese Government sanctioned the Mutianyu section of the Great Wall Of China for graffiti.

Los Angeles' graffiti laws punish somewhere between the lax China and Draconian Singapore (a Swiss graffiti artist earned seven months in jail and three strokes of the cane for spraying "McKoy Banos" across two Singapore Metro trains). But the City Of Angels' statutes don't stop artists from tagging up all the Little Asian Cities—but why, when they do, is 90% English with the remaining 9.9% Spanish? At risk for oversaturation, at least Retna—with his Aztec and Mayan-inspired scripting—is trying to blend history with graffiti.

Tired of Chinese tattoos, I'm even more exhausted with English bubble letters—it's time to open our walls to Chinese taggers as we do to the Chinese companies investing in the building of LA's walls. It would be revolutionary to see some Mandarin in the alleys of Chung King Road.