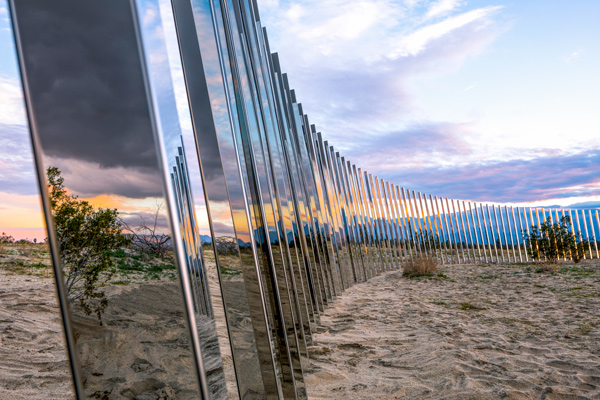 Coachella Hosts Desert X
Things Out West
Desert X, we love the name of this art biennial out in the Coachella Valley—"X" as the unknown, the sexy, the je-ne-sais-quoi factor. There is something mysterious and alluring about the desert, with its sere, sparse, wide-open expanses and its promise of possibilities. This one also conveniently offers some amenities, like posh hotels and spas, good restaurants, and hip rock concerts. The Coachella Valley is bound on the west by the San Jacinto Mountains and the Santa Rosa Mountains and on the north and east by the Little San Bernardino Mountains. Its best-known clusters of civilization are the tony towns of Palm Springs and Palm Desert, and it is the Low Desert versus the High Desert of Joshua Tree, 29 Palms, and other towns north of 10 Freeway. This is a factor of elevation, but the two geographies also carry connotations of historical development and socio-economic class.

Desert X (Feb. 25–April 30) is the brainchild of Susan Davis, editorial director at Sunnylands, the former residence of Walter and Leonore Annenberg and now a museum and tourist attraction. Davis wanted to bring more attention to art in the area, and had a flash after attending BIACI, the biennial in Cartagena, Colombia—why not a biennial in the desert? The timing of the exhibition was strategic—opening with Modernism Week (Feb. 16–26), the art fair/art and architectural event that Palm Springs has built into a major attraction, and going through till the epic Coachella Valley Music and Arts Festival (April 14–16, April 21–23). The latter is also a major funder of Desert X.

Last year Neville Wakefield, a British-born New Yorker, was named curator. "Artists from different parts of the world were selected to make work that responds to the conditions of this unique region," he writes in the guidebook. He eventually whittled his list to 16 artists, mostly American.  Only a handful live in the desert—Jennifer Bolande, Armando Lerma and Phillip K. Smith. Those who didn't paid visits to the area to explore possible sites.

Artist Sherin Guirguis spent time exploring the Salton Sea area, but finally chose a site in the Whitewater Preserve, and to great effect. "I was interested in connecting my personal experience of the desert, which really wasn't emptiness," she said at a Hammer Museum talk. "It is very rich." Clearly, her belief contributed to a rich and layered installation.
Born in Egypt, she was familiar with earthen or adobe structures, and when she saw the cliff at the Preserve, it seemed a natural setting for one. For her installation "One I Call" she collaborated with a team that specializes in adobe building. Hers was modeled after pigeon towers, and built with layers of bags filled with local soil, watered to form a bond. There are ventilation tubes in roof of the tower, and Guirguis lined the insides with gold leaf, which glitter and float when there's a breeze.

While site-specific was an important adjective tossed out to describe the art of Desert X, not all the artists responded to the site-specificity. Those that did were among the most successful works, it seems to me, and those that live in the area—Smith, Lerma, Bolande—were especially attuned to the landscape and the light of this area. Bolande created billboards along the Gene Autry Trail that, at certain moments and angles, matched with the background—the merging of faux and real. Lerma created a new mural in downtown Coachella, La Fiesta en el Desierto, that shows people gathered for an outdoor picnic, with desert and mountains as backdrop. Smith, of course, is now famous for Lucid Stead, which he created out of a traditional homestead house, replacing doors, windows and slats with LED lights and mirrors, reviewed by this author in 2013. For his Desert X installation The Circle of Land and Sky, he placed 300 mirrored polished stainless-steel batons in the sand in a circle, all pitched at a 10-degree angle. "So part of it reflects the sky, and part of it reflects the land," Smith said during the preview.

A big hit of Desert X has been Doug Aitken's Mirage—a full-scale house covered inside and out by mirror panels—set in an upscale housing development on the north end of Palm Springs. It's on a hillside with a dramatic view of the Coachella Valley, and the reflections of land and sky and other people are endlessly mesmerizing. Some question whether it's a rip-off of Smith's Lucid Stead, and there are indeed similarities, but Lucid Stead was nothing short of a modern masterpiece.

Based in New York and the Bahamas, Tavares Strachan also successfully used the land. His installation occupies several acres in Rancho Mirage, although it could be placed in other terrains. Wedges of sand were cut out and framed by wooden slats, and custom-ordered neon lights were inserted into them, below the surface so that you couldn't see apparatus unless you walked up close. The work is to be seen at night, and during the opening event, hundreds of visitor picked up a drink at the bar and wandered around the large, enclosed area, where geometries of light were emanating from the earth. If one could loom overhead from a drone, one could see that the bits of fragmented shapes in the middle of the expanse spelled out "I am," a phrase taken from Vedic philosophy, with "rays" of light shooting from them. It was truly a magical work, and a happy one that made people smile and strangers converse.

There was a major wrong turn in Desert X. Richard Prince installed "The Third Place" in a complex of abandoned buildings in Desert Hot Springs, north of the 10, the Other Side of the Tracks so to speak. The walls of the buildings were plastered with printed blow ups of Twitter posts showing members of a dysfunctional family being dysfunctional, and there were even posters lining a path, held down by rocks. I was told the ephemerality of the piece was part of the art. "The House where my family used to live and are now having a reunion," is Prince's statement about the work, and the fact that it was placed where it was placed—in less affluent Desert Hot Springs—seems an insult to those who live there. No wonder it was vandalized shortly after opening, eventually closed by the organizers.

Another glitch was that a few installations were especially difficult to find from the very basic map that was passed out, and the organizers kept saying that the search was part of Desert X. I've done this kind of wandering with High Desert Test Sites, a precursor to Desert X set in the High Desert, and I will say it's fun until you've spent half-an-hour-plus driving around looking for a dot on the map. So please let's have better signage and maps for the next Desert X—and yes, I do hope there will be another one in a couple years, for the good selections were truly awesome, and well worth a trip to the desert.
Desert X ends April 30; For info and map