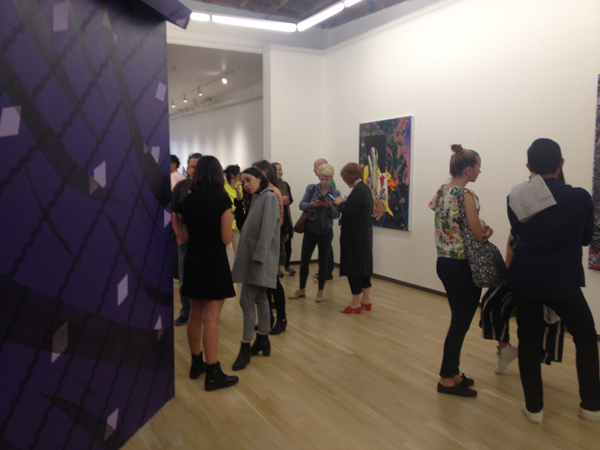 Big Art & Big Bras
Parrasch Heijnen, Panel LA, Shulamit Nazarain
Any night of openings is success if it begins with free shrimp tacos, and boy did Parrasch Heijnen deliver. The relatively new gallery, tucked away in Boyle Heights near the now-defunct Sears building, surely knows how to win over new fans. Outside the gallery, one of my all-time favorite food trucks Mariscos Jalisco was slinging free tacos and ceviche, while inside the gallery had buckets of free Modelo—yes please! There was a decent crowd out to see Billy Al Bengston's work, but unfortunately when we arrived he had already skedaddled—he is 83, after all, so standing around all day in a gallery is presumably not his favorite pastime.
Next I stopped by Carmen Argote's "Pyramids" opening at Panel LA, where gallery manager and curator Chiara Giovando explained that their beautiful space was artist-run with FREE RENT, which is absolutely insane. I would have been terribly happy for their stroke of luck, but I was too green with envy. They also had what looked like top-shelf tequila for free, which I unfortunately did not have the chance to try since I had to run over to Shulamit Nazarin to check out Amir H. Fallah's "Stranger in Your Home."
The opening was definitely the most 'see and be seen' out of the three. One of the first people I spotted was heavy-hitter painter Henry Taylor. Not long after arriving, I ran into artist Theodore Svenningsen, who surprisingly made it across town from Parrasch Heijnen in his old Ford van. I gossip a bit with contrarian Coagula Curatorial owner, Mat Gleason when Andy Moses showed up with wife/artist Kelly Berg. Art text-book writer Patrick Frank with L.A. Louver's Elizabeth East made an appearance too. Across the room I spot Brenda Williams, Dani Tull and Lester Monzen. Just off their bikes walks in Grant Redwine and Max Presneil.
Next to the little bar (where they served particularly good white wine) I run into artist Nadege Monchera Baer, and actress/bra maker, Jenette Goldstein with husband/artist Aaron Noble, who upon surveying my breasts, insists that they now have a store for small-chested women as well called Flattery, which in this case got her nowhere!