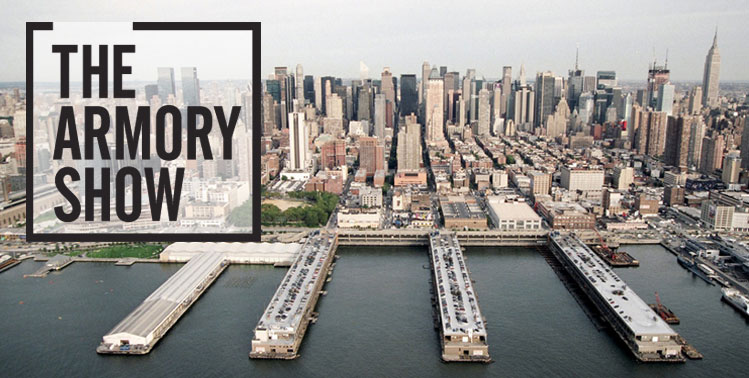 ARMORY SHOW 2014
And all the Rest: ADAA, Independent, SCOPE, (UN)FAIR

On Friday, I started the day off with another VIP event, this time at Scandinavia House hosted by the Nordic consulates. (You've got to hand it to the Scandinavians. In addition to everything else they get right, they are also incredibly supportive of the arts.) After a brunch of lingonberry infused champagne and smoked salmon rollmops followed by a private tour of Darkness & Light: Contemporary Nordic Photography (nothing very new or innovative), I headed uptown to the Park Avenue Armory for the Art Dealers Association of America show, or as one wag put it, the ADHD show (I think it's only ADHD because going to yet another venue makes you feel like a sufferer because in contrast to the others, the ADAA show is a very hushed, rather staid event). Here, you'll find well established dealers exhibiting work by well established artists. It's very, well…Upper East Side.
One happy surprise was to encounter Ann Hamilton's ONEEVERYONE at the Carl Solway Gallery booth. Hamilton is on-hand coaching participants as they stand behind a plastic sheet, which, at her instruction, they press their face against. When the picture is taken, their most prominent features will be in focus while the rest of the face blurs. It's unexpected to come across this type of interactive work at the ADAA show, although the venue is a familiar home to Hamilton who exhibited her mysterious and beautiful "The Event of a Thread" here two years ago. Anyone can participate in ONEEVERYONE on a first come, first served basis. Participants will receive a small portrait by mail subsequently.
Friday night, I humped it down to the Independent Art Fair in the old Dia building in Chelsea. Nothing leapt out at me except the giant aspic of hard boiled eggs, carrots and peas. I confess I did hustle through it; it was too crowded and hot.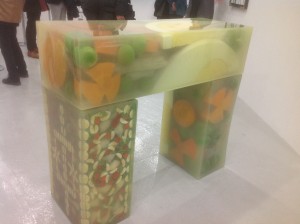 At SCOPE, I was kind of blown away at how many Andy Warhols and Marilyns there were in all different media. What is the thinking behind this? Who is making them and who buys them? It's just so tiresome. And then there are the sharks. I saw two (really lame ones) over the course of my 4-day walkabout. And all I want to scream is: it's not about the shark!
It can be pretty discouraging traipsing around realizing that so many people artists, dealer, buyers do not have the slightest clue. At one point, I got caught in a cul de sac of horror where I was surrounded by glitzy bronze sculptures and "serious" photographs of what were basically Victoria Secrets models in lingerie. One can only imagine where this will end up.
But, in balance I was amazed at how much good stuff I did find at SCOPE starting with Paula Rego's Samurai, I had never heard of this artist from Portugal, but man can she paint–such abandon and control. I think that booth (Corderiros Gallery) was in the wrong fair; they also had an amazing Juan Uslé painting and a number of Thomas Struth photographs–all of it museum quality work.
Other work of note was Xu Weixin's large-scale miner, beautifully painted with inherent nobility, Robert Pan's luscious resin works, Gemma Anderson's ethereal drawings and Louis Camy's soulful renderings of industrial buildings. There was a glittering mirrored wall piece that I thought was beautiful (I couldn't find a label). Since complaints about all the glitz have been recurrent in this blog I did want to make note of one I found successful. I loved Natasha Kissel's odd little landscape I Cannot See which combined a fairy tale forest made up of Charles Burchfield trees with an unexpected modern house, and Geri Montano's lil' pinup girl. I don't usually go in for this kind of low art girlie kitsch, but there was something about the way Montano arranged the composition and the use of American Indian motifs (another tricky thing to do) and collage that appealed to me. I liked Ekaterina Panikanova's use of books and watercolor in her quirky "Happy Turkey."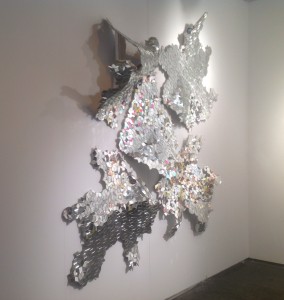 There were a number of riffs on the hejab the most successful being Sarah Maple's confrontational White Girl.

Wandering into Birch Contemporary from Toronto Canada was like a breath of fresh air. Every single artist they had was interesting with a clear individual voice. I loved Martin Bennett's austere yet elegant whispers of paintings, Jaan Poldaas's EG Series. This kind of color grid isn't new, in fact there were a couple of iterations at The Armory, but I liked Poldaas's scale and the accompanying list added an unexpected curveball. Shaan Syed's works on paper were delicious with inventive arrangements of shapes and interesting color. Micah Lexier's found object works are visually arresting in and of themselves. He also employs a complex annotating system that is embossed in the paper on each one that adds interest and weight.
Finished with SCOPE, I headed uptown to The (UN)FAIR a guerilla-style art show located in an old tenement whose theme this year, "Exploring the Divide" focuses on the current climate of political and social polarization. Something one gets to know about attending a thing like The Armory Show.
While I don't know if I picked up on the theme looking at the art here, and I still don't understand why they had a Norman Rockwell in the mix, I have to say that the talent at this show was impressive. There also was a sense of friendliness, lack of pretense and genuine excitement that was so pleasant to encounter. It was reassuring about the state of things in the art world and beyond and a very good note with which to close out the March 2014 New York art fairs.


The Armory Show: where fashion, attitude, commerce and sometimes art collide. Friday, March 7, 2014.

I'm tired. My dogs are barking, my eyeballs burn.
I've been wandering The Armory Show aisles for hours and hours. It's hard going looking for something fresh and captivating among all the grand gestures, self importance and banality.
In the contemporary section, predictably, nearly everybody is looking in the rearview mirror chasing concepts and images we've seen before, instead of forging ahead into new, unknown territory. Artists who've found a good thing are sticking to it tooth and nail, others are floundering.
There's plenty of Japanese anime, ungainly constructions, or huge canvases that are by turns, either overly messy or way too slick. And more seems to be always more. When in doubt, throw a found object in there. And shiny? Bring it on!
The supposedly shocking stuff long ago lost it's power to shock and now it's just silly, the deadpan: utterly boring.
China is the special focus this year. And it's a microcosm of the larger show. However, I was quite taken with Li Shuri's Vasarely-like optical paintings which derived their particular power by the number of them grouped in the booth.
And Liang Shuo's Fit No.8 an assemblage of delicate drawings that seems to reference assembly instructions of some kind. I liked the handmade cartoonish quality of the drawings of something that is the opposite of handmade. In this era of mass production and 3-D printers, it was refreshing to see a human touch.
And from Eye Gallery in Beijing the very satisfying, quiet little works of Ji Dachun especially, and the lyrical paintings by Wang Yabin were a delight.
I'm a little unclear about where The Armory places the dividing line between modern and contemporary. For instance, over on Pier 94 at Galeria Luciana Brito of São Paulo was the very appealing minimalist work of Waldemar Cordeiro and I saw a couple of Alice Neel's in contemporary as well. Both these artists' work was also featured in booths on Pier 92.
There was a stunning, large  Elizabeth Neel The Life of a Certain Animal, which I can't remember where I saw.
Lisson Gallery had some interesting work, but nothing new. I liked the small alpine photographs (I think they were photographs, they could have been paintings, the label didn't say) of Daniel Gustave Cramer at Sies & Höke.
The most visually satisfying art to be found was In the modern section. Here, the chaff has largely been removed through the passage of time (although there's still plenty around).
Moeller Fine Arts' beautiful booth featured a gorgeous Mark Tobey, a number of appealing Feiningers and an Otto Dix nude that was so exposed in its unvarnished image of a rather grotesque woman that it blew all the other empty nudity out of the water. Zucker Art Books had a fine collection of Dieter Roth's pleasing graphic works.
There was a gorgeous dense little Joan Mitchell (I can't remember whose booth it was from), a wonderful Wayne Thiebaud hunk of salmon, a powerful Basquiat head. 
At Carl Hammer Gallery, a selection of the Chicago visionaries whose work is so odd and galvanizing. I loved CJ Pyle's weird drawings of what look like woven hair and bandaged plants, Joseph Yoakum's acetic landscapes and Roger Brown's simply staggering allegory of horse and figure.
Though I don't much like the title, "Venus Drawn Out" (Why Venus, Roman goddess of love exactly?) the curated show of women artists hung about the modern section contained some knockouts by Pat Steir who produced a site specific luminous calligraphic line that was in fact a grand gesture (one that is both grand and gestural)
and small pieces by Grace Hartigan, Yayoi Kusama and Georgia O'Keeffe that just sang.


Pradas on the Ground, Thursday, March 6, 2014, 09:30.
The Olympics are over, Fashion Week is a memory; it's time for that annual spring rite the behemoth of an art fair that is New York's Armory Show. Though the Armory Show is nothing to sniff at, comprising extensive contemporary and modern sections housed side-by-side in old shipping piers on the Hudson, it's the various satellites spread out over the city that add to the overwhelming volume of art to be seen. Just getting from one venue to another is a major logistical challenge.
Then there are the added VIP events. Lucky for me, I scored an invite from my friend art dealer Richard Berman, to a private viewing of renowned paper conservator Martina Yamin's splendid collection. Such an interesting and vital group of works on paper ranging from Gerhard Richter to Paul P., Robyn O'Neil, Brice Marden, Shahzia Sikander, Josef Albers and many, many more. There were austerely elegant minimalist pieces, earthy gestural ones, some were macabre, others funny. All uniformly strong. Seeing such a collection in situ in someone's home was a delicious treat indeed. I was drooling when Richard pulled me out of there.
Down we went to VOLTA NY, an invitational show of artist's projects exhibited in an old industrial building in what has become one of New York's major shopping malls: Soho. Shopping seemed to be on the minds of the well-heeled attendees. If I'd enough coin in my pocket I would have snapped up more than one of Pius Fox's complex little discourses on surface, color, line and composition. Talk about an iron fist in a velvet glove!
In the same booth Henrik Eiben had a sweet little popsicle stick assemblage, but in another piece he blew it up using faux enlarged popsicle sticks which left me cold.
I hesitated before the booth of John Player's paintings. These banal scenes are interesting because of how they're painted, a style that owes much to both impressionism and photography, and also their ominous subject matter: military bases, drones, piles of TVs. In one Player has even painted the lighted target information one would see through a view finder overtop of the landscape suggesting it is a drone's eye view.
Similarly, I liked Sonia Shiel's curious paintings. All in a rust palette with heavy black outline. They were enigmatic and unusual. The pictured landscape reminded me a bit of 19th century British visionary painter, Samuel Palmer. A breath of fresh air amid all the Marlene Dumas and George Condo wannabes.


Upstairs, Meg Hitchcock was doing wonderful things with newsprint. Circles and grids and Moorish arrangements. I'm a sucker for this kind of work. Taking something so ordinary and cheap and making something unexpected and quite beautiful out of it.
Casey Ruble's collages naturally called to mind Alex Katz's, though Ruble's are less impressionistic. His interest is in the "psychology of connection, detachment and transience." His vignettes appear ordinary, but are charged with bad juju. Murders, abuse and suffering have all happened here in these cheery, bland little places.
To give you a sense, there was a lot of this: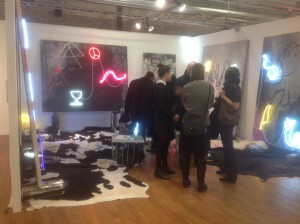 Oooh, but lookee here what was tucked in my VOLTA NY goodie bag: