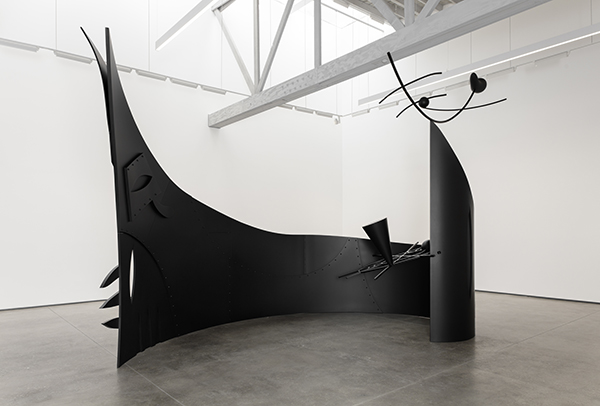 Aaron Curry
David Kordansky Gallery / Los Angeles
Aaron Curry's "STARFUKER" at David Kordansky Gallery seemingly comprises fragmented collisions of space debris tearing through a parallel universe. The two-part exhibition contains a series of paintings on variously shaped canvases in one room and large-scale aluminum and steel sculptures in the other.
The seven paintings located in the north gallery are acrylic gouache on canvas and have an aesthetic theme of incandescent colors on black backgrounds. In the south gallery sit the paintings' counterpart—two painted aluminum, fiberglass and stainless steel sculptures that tower over the viewer at a maximum height of 14-feet.
Curry's paintings exist in the realm of the future as imagined in the 1980s—with impressions of spray paint, graffiti and neon signs. They hang suspended like jagged portals, and curiously give the impression that one is looking through the picture plane into the abyss contained within them. Even though they're technically paintings, these works have a sculptural quality as a result of the thick cutouts of canvas layered upon one another, and their varying unconventional shapes. Because of this layering Curry plays with the dichotomy of what is in the room and what is contained within the painting, a theme of duality that can also be seen in the juxtaposition of impressionistic vast spaces and molecular-like details, or binary checkerboards and organic space matter. Works like Cosmic Gorgy (all works 2015) are discernibly tactile and produce the unnerving sensation of wanting to reach out and grab them to see how they work and move, while others, like Cosmicgasmatical, have a trompe l'oeil quality where the space within the painting seems to shift depending on the position of the viewer.
These playfully colored works stand in distinct contrast to the two large sculptures in the opposite room. 
STARFUKER and Creator Creator seem like objects manifested from the paintings except that they are painted matte black instead of fluorescent. It's as if the moment these space entities were brought into our world as tangible objects they lost their luster, and we can only see them in their most basic colorless form. The sculptures are imposing in the space they contain as the viewer walks in and around them. In Curry's previous bodies of work there was a sense that the sculptures existed in a two-dimensional space, as if they were three-dimensional representations of his paintings. STARFUKER and Creator Creator have a more developed atmosphere with their curvatures depicting movement through space. 
These brutalistic sculptures evoke an impression of functionality. While striking in both scale and aesthetics, STARFUKER also appears to exist both in the world of art and of artisan; it wouldn't be surprising to discover that the sculpture was actually a device to measure space-time, with its balancing act of shapes and spheres that are reminiscent of a sundial or astrological chart. Creator Creator, on the other hand, undeniably looks like a giant horn. These tubes, cones and other common geometric shapes have a familiar attachment of what looks like an ordinary linked chain, which vastly contrasts surreal crosshatchings and a diamond floating in space. The works are reminiscent of Miró and Kandinsky with the presence of both sleek lines and whimsical shapes. Curry plays with the duality of man versus machine through his use of sharp edges that could only be created in an industrial setting and curved lines that have a distinct human handprint. Herbie Hancock's "Sextant" would be a perfect soundtrack for inspecting these futuristic works that could be an archeological find from a space culture other than ours. The theme of discovery and archeology is demonstrated through hints in iconography that appear on the inside curve of STARFUCKER as the easily recognizable Egyptian eye. The utilitarian shapes combined with the ominous matte black color reveal Curry's vision of the future to be one not so far off from ours—militaristic, harsh, and one where machine and man exist in a teetering state of balance.
While Curry has been producing work consistently since receiving his MFA from Art Center College of Design in Pasadena in 2003, "STARFUKER" is an evolutionary step forwards for the artist. These post-apocalyptical artifacts serve as an extension in aesthetics and themes from his previous paintings and sculptures and serve as a clear sign that the artist is going to continue to take risks both in his titles and in his subject matter.