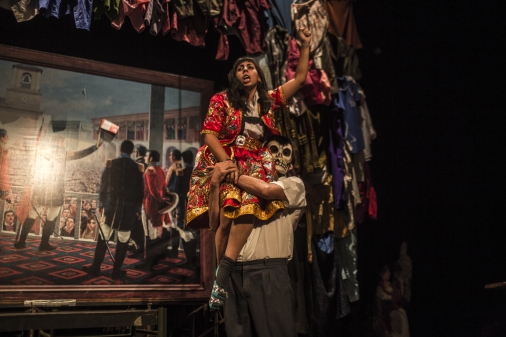 Thursday, January 18, 2018
9:00 pm - 10:00 pm
631 W. 2nd Street , Los Angeles California 90012
Presented as part of Pacific Standard Time Festival: Live Art LA/LA
"Yuyachkani" is a Quechuan word meaning "I am thinking, I am remembering." Since 1971, Grupo Cultural Yuyachkani has devoted itself to the collective exploration of embodied social memory, particularly in relation to questions of ethnicity, violence, and memory in Peru. Incorporating visual arts, theatricality, and poetics of found objects, their multidisciplinary performance Discurso de Promoción confronts a narrative of revisionist history they perceive in public relations campaigns about Peru's upcoming 2021 Bicentennial. Historical representations and allegories revise legends, myths and characters, as well as specific episodes of recent Peruvian history.
Performed in Spanish with English translation.
January 18-19, 8 pm
January 20, 7 pm
LOCATION: REDCAT (Theater)
631 W. 2nd St, Los Angeles, CA 90012