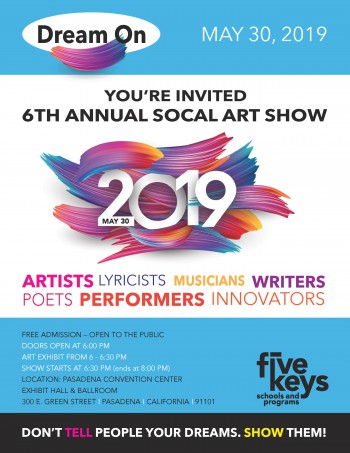 Thursday, May 30, 2019
6:00 pm - 8:00 pm
Pasadena Convention Center
300 E. Green Street, Pasadena CA 90404, Los Angeles California 90404
Five Keys Schools and Programs presents its 6th Annual Art Show, titled 'Dream On,' on May 30, 2019 from 6pm-8pm, at the Pasadena Convention Center's Exhibit Hall & Ballroom. This news/note-worthy event is FREE and will be opened to the public.
'Dream On' will be centered around a push for the students of the Five Keys Schools and Programs (previously/currently incarcerated individuals) to understand that dreams are not a waste of time; they're realities in waiting. This one-night event showcases Five Keys' Student Voices through Artwork, Poetry, Music, and Performances.
We expect this year's event to be a transforming experience for both the artists and attendees.
History of Five Keys Schools and Programs…
Five Keys Schools and Programs was the first charter school in the nation to operate inside a county jail. Founded by the San Francisco Sheriff's Department in 2003, its initial mission was to educate inmates and ex-offenders by providing high school classes and access to community-based programs. In 2012, Five Keys opened its doors in Los Angeles; and, four years later in San Bernardino. Today, Five Keys is a nationally recognized education management (non-profit) corporation that operates accredited charter schools and programs for transitional-aged youth and adults at more than 100 locations across California; in the counties of San Francisco, Los Angeles, Alameda, San Mateo, Santa Clara, Solano, and San Bernardino. We continue to be committed to restoring communities through education, reducing recidivism rates, improving public safety and economic activity, and facilitating safe and cost-reduced jail operations.
Our Mission Statement:
Five Keys uses Social and Restorative Justice principles to provide traditionally underserved communities the opportunity to restart their education with a focus on the Five Keys: Education, Employment, Recovery, Family, and Community.
300 E. Green Street, Pasadena CA 90404, Los Angeles California 90404