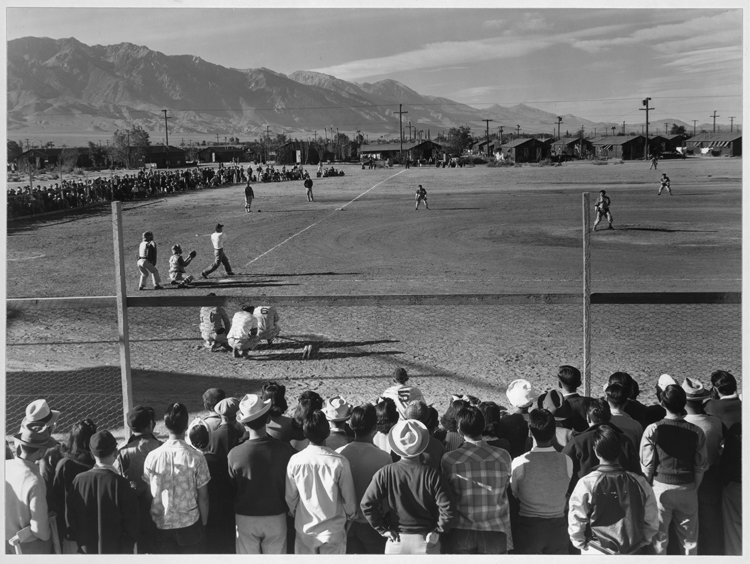 TWO VIEWS: PHOTOGRAPHS BY ANSEL ADAMS AND LEONARD FRANK
Japanese American National Museum: A Timely MIrror
Liberty Cabbage. Freedom Fries. Whenever a reactionary quorum congregates one can be certain no good can come of it. While our senate stages a work stoppage on judicial appointments, and a viable presidential candidate—best known for his government shutdown antics—suggests patriots patrol Muslim neighborhoods just to keep an eye on those people, it is instructive to review the bigotry of our past selves costumed as defense of the realm. The photography exhibition "Two Views," that ends its run at the Japanese American National Museum (JANM) in Los Angeles this Sunday, is a timely mirror in which we can all reflect.
This traveling exhibition organized by the Nikkei National Museum in British Columbia recently made its 12th and final stop here in Los Angeles. It features the work of two North American photographers, the world famous American Ansel Adams and a lesser known Canadian, Leonard Frank, examining the same subject: the internment of people of Japanese ancestry as a response to the attack on the American naval base at Pearl Harbor. Adams's work on the subject is well known; we've seen his books of internment camp photographs Born Free and Equal, (1944) and Manzanar, (1988), as well as last year's exhibition at the Skirball Center in Los Angeles, "Manzanar: The Wartime Photographs of Ansel Adams." His iconic images, well represented here at JANM, evoke anew the moral outrage and incredulity of seeing American citizens confined in a concentration camp, though at the time his sympathetic portraits found numerous detractors.
Of the Adams photographs three are exceptionally poignant. Roy Takeno, editor, and group reading paper in front of office (1943) shows the editor of the Manzanar Free Press reading the Los Angeles Times for news from outside the camp. Another, Baseball game, Manzanar Relocation Center, Calif. (1943) shows the internees enjoying the most American of pastimes. Finally, Chicken farm, Mori Nakashima, Manzanar Relocation Center (1943) shows an inmate deceptively casting an indistinguishably human shadow.
Less known is the work of Leonard Frank and Canada's similarly hysterical xenophobia concerning the descendant Japanese population of British Columbia. A German immigrant of Jewish heritage, upon whom the cruel irony of his documentation could not have been lost, Frank died a year before the war ended but fully five years before the Canadian interment program was terminated. Far different from his typical landscapes and street scenes of British Columbia, Frank's photographs of the internment camp, 100 miles from the militarily vulnerable Pacific Coast, show an unmistakably severe detention. Building A, Hospital Ward-Livestock Building (1942) shows the stained floor planking and crudely constructed room dividers in an infirmary devised for a population for whom comfort was not a consideration. Building K, Men's Dormitory (1942) depicts a vast auditorium for the exhibition of farm animals, now crowded with bunk beds no more than two feet apart and rising up through the raised seating area. Most sinister is Japanese Evacuation Hastings Park—medical building interior (1942) where, between two rows of patients waiting to see the doctor, a uniformed Mountie stands.
Long held anti-Asian sentiments in British Columbia certainly contributed to the unemployment, exile and imprisonment of Japanese Canadians alongside the confiscation and liquidation of their property to finance their incarceration. The highest ranking B.C. parliamentarian stridently proclaimed, "It is the government's plan to get these people out of B.C. as fast as possible. It is my personal intention, as long as I remain in public life, to see they never come back here. Let our slogan be for British Columbia, 'No Japs from the Rockies to the seas.'" Yet it is those who gave the appearance of stolid sensibility who were most responsible for this mass ethnic displacement and captivity. We here in the U.S. tend to ascribe richly cordial sensibilities to our neighbors to the north, yet in this election season—when there is assertion and rejection of whose lives matter—we should recall that Canadian Prime Minister MacKenzie King admitted in the House of Commons in 1944, "It is a fact no person of Japanese race born in Canada has been charged with any act of sabotage or disloyalty during the years of war." However, he later confided in his diary, "It is fortunate that the use of the bomb should have been upon the Japanese rather than upon the white races of Europe." 
Ends this weekend: April 24, 2016
TWO VIEWS: PHOTOGRAPHS BY ANSEL ADAMS AND LEONARD FRANK
JAPANESE AMERICAN NATIONAL MUSEUM
100 North Central Avenue
Los Angeles, California 90012