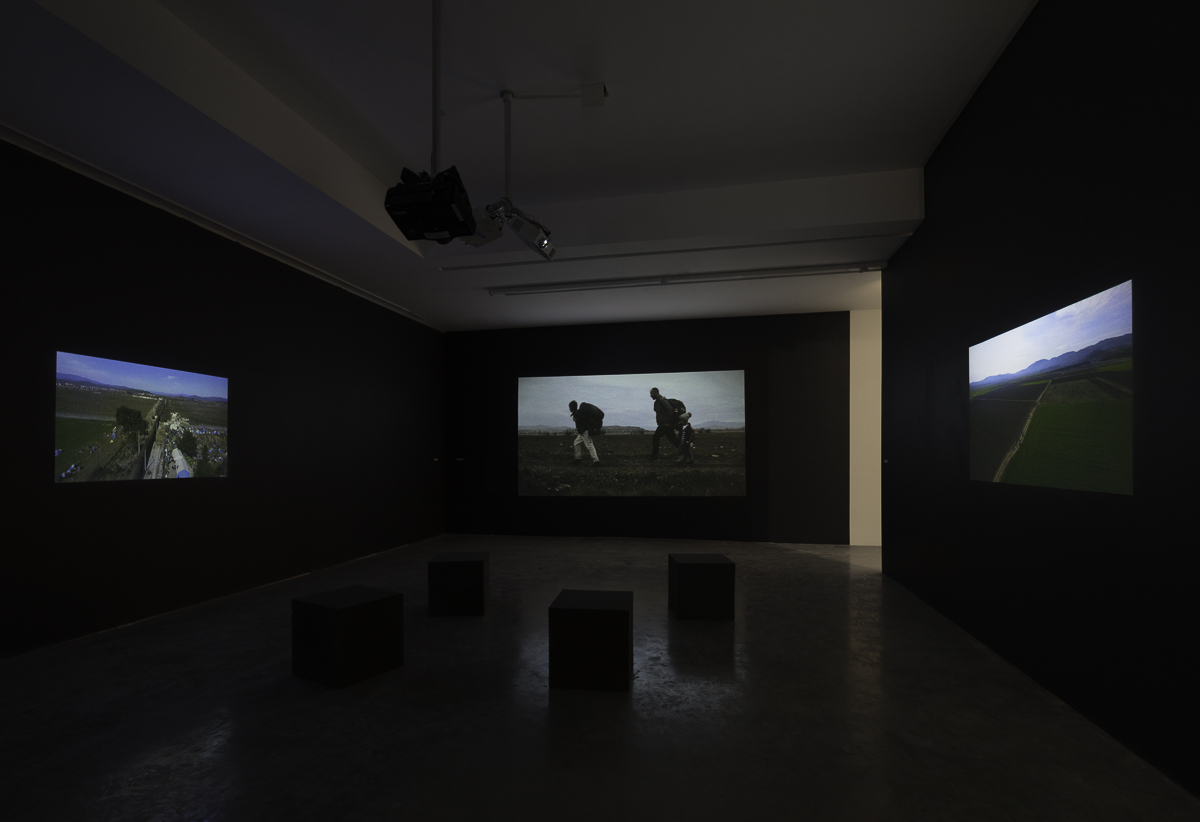 REDCAT: It is obvious from the map
The exhibition equivalent of grandmother's tablespoon of castor oil, It is obvious from the map is unpleasant to consume but leaves one feeling positively virtuous (if in the vein of sadder-but-wiser) for having endured it. Visually, it displays more virtue than virtuosity. Apart from the four only minimally edited videos in the first of three small rooms, the exhibition is text-based. It is heavy on reading, and the reading is heavy. This is essentially a documentary—a catalog of ordeal, suffering, and death.
Two works by Drone Media Studio are caustic mirrors of those seen-from-above videos that are vacuous filler on many cable television channels. Flying over European countryside, the drones capture video, not of boats on the Danube or Dutch tulip fields, but a seemingly unending line of refugees snaking well-worn routes that have been mapped and distributed via social media. While this contemporary underground railroad often features well-paid conductors, the consequences of failure are similar. These travelers risk capture, beatings, imprisonment and return to the chaos from which they are attempting to escape.  
The second room features a series of maps that, drawn as charmingly as New Yorker cartoons, illustrate migrant and refugee travelogues. They are actual transcripts of travails encountered and solutions employed by those who have sought the safety and possibility unavailable in their homeland. The dotted lines of their routes often backtrack two or three times as the travelers are stymied in their attempts to cross borders. To be merely turned away is a favorable outcome considering some of the events the maps relate: Bulgaria—When asked policeman 'can I get my phone' he beated me; Turkey—Security boyz and local mafia were robbing us;­ Croatia—So policemen hit him and broke his nose.
The tale of one man's 8-year odyssey includes prison, bribery, forged papers, and marriage on his way from Somalia to Denmark. The final work in this last room is the most wrenching. It is by Heller & Pezzani and called Liquid Traces: The Left-to-Die Boat Case. This video projection with narration and audio clips achingly illuminates the cruel dyad of bureaucratic indifference and negligence; if the newcomers are pleading for entry on land the authorities actively repel them, but if refugees are hopelessly adrift at sea they are willfully ignored.
It is obvious from the map, March 25 – June 4, 2017 at REDCAT, 631 West 2nd Street, Los Angeles, CA 90012, www.redcat.org.