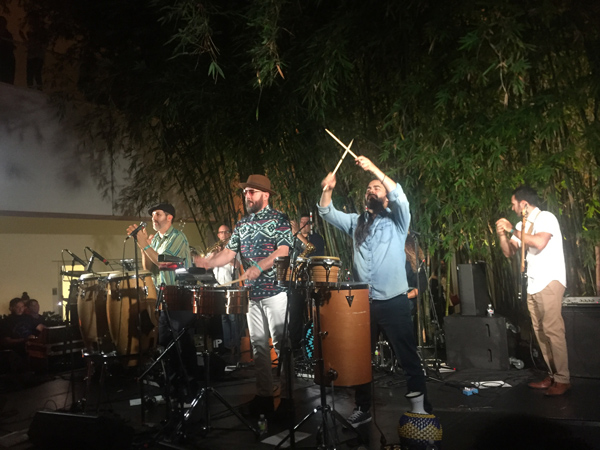 Rad Art Opening
Radical Women: Latin American Art 1960-1985 at the Hammer Museum
It's a little inside scoop that people who frequent art openings often call the Hammer openings "Hammer-ed" openings, and it's no surprise. Armed with the (possibly) coveted "Director's" pass, aka VIP, I was able to peruse the party without the distraction of the hoi polloi—a word, mind you, that I learned that night, which can give you some indication on where I stand on the spectrum.
The drink line was excruciatingly long as there was only one bar during the first portion, which is ridiculous—don't they know how much people love to drink, especially when it's free? The line ended up being a prime location for people-spotting though, which is where I saw sculptor Charles Long lounging by the balcony, multidisciplinary artist Renée Petropoulos and artist Judie Bamber.
I'll just go ahead and list some more A-listers to induce fully fledged FOMO for those who didn't make it to the opening. In attendance were art scenester photographer Marlene Picard, photographer of throngs of women, Kim Schoenstadt, Lita Albuquerque, DTLA gallerists Eva Chimento and Jason Voss with artist Emiliano Gironella Parra, always-perfectly coiffed hair Mary Kelly, art historian Elena Shtromberg, Artillery contributor Scarlet Cheng and LA Times art writer Carolina Miranda, along with loads of other artists and art-world folk.
The food was not much to write home about, but I suppose I'll write about it anyways. I was able to claw my way into getting two measly morsels—half a cheese ball and one empanada. Thank God we ran into Carole Caroompas with Allison Stewart (who graciously lent me a cigarette).
About an hour or so after arrival, doors were opened up to the public at 8pm, and I have to say that's when the real party started. Hoards of people poured up the stairs to get into the two large gallery spaces to see the show. The Hammer was so overwhelmed by the amount of people that security was forced to shut the door and make people wait to enter. Although, when asked, security said they didn't actually know what exactly capacity was, I'm pretty sure the space could not hold the entire mass of people that stretched all the way down the stairs.
After deciding to go downstairs and check out the fantastically-energetic band Jungle Fire, I yet again pass video artist Bruce Yonemoto who spent what seemed like the entirety of his night wandering around the Hammer grounds looking for "one of the only other Asian people here." I really hope he found them.
Photos by Leanna Robinson