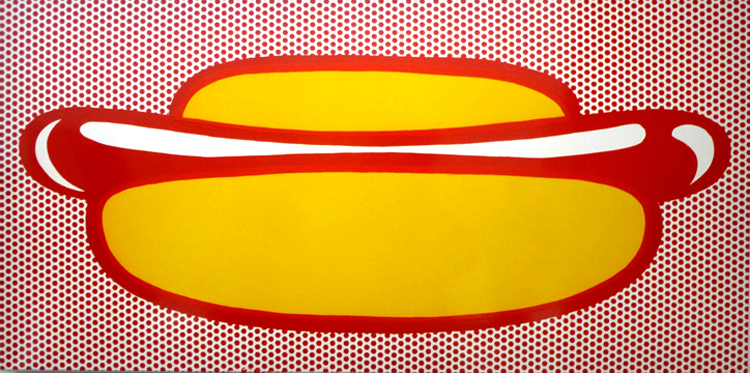 Fast Food Art
No Escape, It's Everywhere!
How often have you found yourself saying, "I would bring my business here, if only they had more generic, mall-safe, focus-group chosen art on the walls?" Surrounded by more museums, galleries, and out-of-work MFAs than in any other city, these SoCal establishments have decided against partnerships that could create unique site-specific works, and have instead trusted the curatorial choices of franchise owners and whatever is currently trending on Twitter. We think you'll agree that some of most cutting-edge art in Los Angeles is happening above your Beefy Fritos® Burrito.
Urban Outfitters
Banksy never said but meant to, "The greatest work of urban art would be urban art in an Urban Outfitters." No need to exit through the gift shop when the gift shop is all there is. Lest the $100 price tags on outfits throw you off, the clothing retailer wants you to constantly be reminded there's an "urban" in the name, so the exposed (sanded and polished, faux-)rust beams are adorned with OG graffiti like "Unorthodox" above a mirror, "Karma" upside-down between two hearts, and, echoing the history of urban art's embracing of corporate America, the above-pictured tag and ripped-sock version of the state that houses Sickid, Barry McGee, and Saber.
Taco Bell
Taco Bell answers that age-old art question of "What if Hannah Höch and Man Ray dropped acid, ate a 12-pack of Fiery Doritos® Locos Taco Supreme®, and, stuck in the bathroom for hours, only had Taco Bell placemats to work with?" In case the self-hating customers, syrupy tables, and sour-cream glue gun don't place you, Taco Bell's Post-Collage collages subtly bring you back inside the box. But Taco Bell didn't stop there: taking a page from The Getty's gallery ceilings—which have panels that shift to modify natural light—this piece is hung so the fluorescent bulbs and menu are reflected in whichever angle you admire the objet d'art.
Aaron Brothers
How often have you found yourself saying, "I like Renoir, but the faces in his paintings aren't cavemen enough?" Eschewing the pompous art world establishment's definition of "integrity," Aaron Brothers has decided to instead embrace the TJ Maxx category of "slightly irregular." After seeing her restoration work on Elias Garcia Martinez's "ecce homo" fresco in Spain—which turned Jesus into a sex-doll koala—Aaron Brothers apparently hired the elderly amateur to bring her unique "blind child trying to draw" style to other classic works. Now, for a fraction of the cost of the original, and an even lower fraction of the original talent, anyone can take home these suggestions of the classics, which will no doubt lead to countless dinner-party debates on ownership, homage vs. misappropriation, and Aaron Brothers return policy.
BJ's Restaurant and Brewhouse
Referencing the great Detroit Institute Of Arts industrial murals of Diego Rivera, and 1930s Socialist Realism, BJ's wants to reveal the modes of the production for their hoppy BJ's Brewhouse Burger. Marxist in concept and execution, BJ boldly salutes the farmers in this neo-realist rendering of those who toil the soil: those white, sweat-free, Nordic Gods.
Banana Republic
Banana Republic shows they're a Banana Dictatorship when it comes to folk art, creating—and leading—the exciting new art movement of "Corporate Etsy." Equal parts Rauschenberg and Overpriced GAP, the clothing retailer offers insightful reflections on our disposable culture by exhibiting uses for the clothes that will be out of style in two months. "Never Look Back You're Not Going That Way" proclaims a sketch pad, a rebellious diatribe against the pessimistic text of Barbara Kruger. As with all great folk art, some may find it the work of a crazy person—but don't let the store manager hear you call it an "Anthropologie Garage Sale." "It's creative art," one manager was heard correcting a photographer, "By Creative Director Marissa Webb. Look her up. She's a genius artist." MacArthur, are you listening?