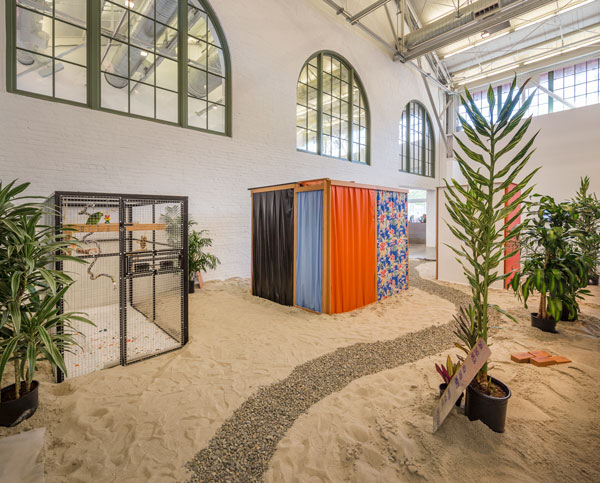 Memories of Under-development
Museum of Contemporary Art, San Diego
"Memories of Underdevelopment" is a sweeping exhibition composed of 400 objects from more than 50 artists from eight countries throughout Latin America. It shares its title with the 1968 movie directed by Tomás Gutiérrez Alea about the Cuban revolution and associated political protests. A collaboration among curators and works from MCASD, Museo del Arte de Lima in Peru and Museo Jumex in Mexico City, the exhibition focuses on conceptual and performance work created during the period from the 1960s to the 1980s. This distinctive time frame traces postwar developments in several Latin American countries as they moved toward industrialization.
The idealism of a new abstract geometric language was eventually set aside while attempts at modernization failed the masses, and oppression and military dictatorships followed. Artists sought new ways to connect with the public, engaging directly with communities and incorporating film, performance, installation and other innovative art forms.
The well known architect Lina Bo Bardi and renowned artists Hélio Oiticica, and Lygia Pape are featured prominently as are many lesser-known artists from Columbia, Uruguay, Chile and Peru. These avant-garde artists chose to rethink artistic production, rejecting cultural and aesthetic norms introduced by colonization and industrialization.
Bo Bardi transformed an oil drum factory into the Cultural Center SESC Pompeii and designed and built Sao Paulo Museum of Art, both with a conviction to maintain these institutions as places of public community discourse and gatherings. Oiticica's large-scale installation Tropicália, Penetrables PN 2 'Purity is a Myth' and PN 3 'Imagetical' (1966-67) revolutionized the role of the viewer, responding to the oppressive political situation in Brazil. Pape's performance work Divisor(1968) allowed participants to poke their heads through a grid of holes in a large white sheet, commenting on constraints of modern bureaucracy.
Anna Bella Geiger, an influential Brazilian contemporary conceptual artist, explored identity, borders and citizenship, decolonization, geography and culture using map-making. In Anaconda Map of Chile (1973), Juan Downey uses the map of Chile alongside an anaconda snake, each placed inside of a wooden glass case, an installation with a message about the Anaconda Copper Mining Company whose practices in the 1970s diminished this large Chilean industry.
Chilean artist Guillermo Deisler was a prolific visual poet and the main contributor to the mail art movement, which used collage as well as language to communicate to greater numbers of people alienated and silenced by oppressive regimes. Eugenio Dittborn, a Chilean graphic designer and printmaker used found images to illustrate the effects of the Pinochet dictatorship with his "airmail paintings," resisting government censorship by mailing internationally. In the 1960s, Venezuelan artist Eugenio Espinoza created some of the first examples of conceptual art in his country in reaction to geometric abstraction which symbolized modernity and wealth under the government. His grid paintings and installations used space and the body, transforming the grid structure into performance and participatory works. On the whole, the rich and challenging works presented in this exhibition introduce a Latin American historical perspective which has not previously been widely offered to audiences in the United States.