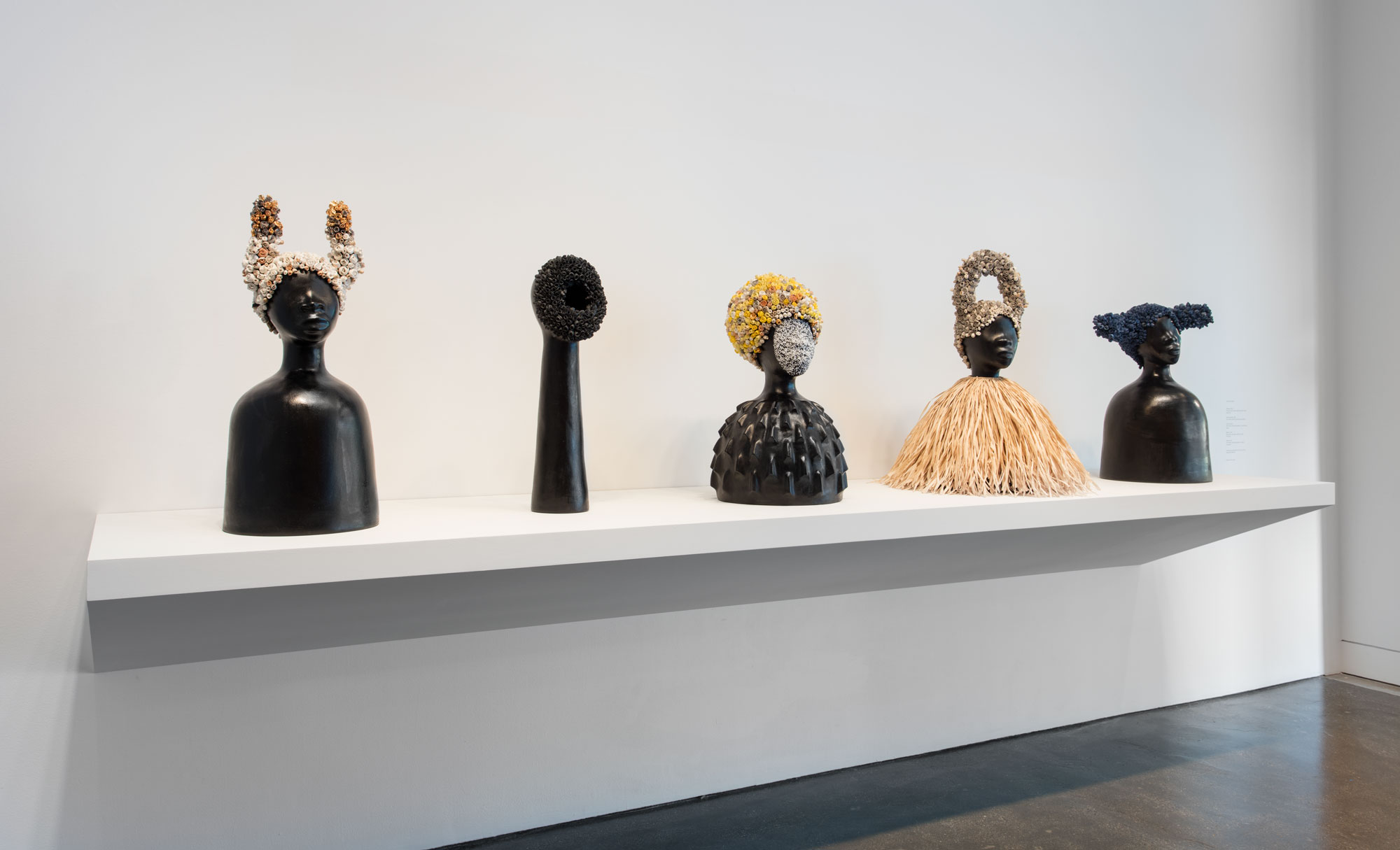 Hammer Museum: Simone Leigh
Simone Leigh's small but impactful show of new work at the Hammer Museum probes the construction of the black female subject within the historical context of the African diaspora. Her aesthetic influences are culled from traditional African and Caribbean visual art and culture; her meticulous fashioning and application of materials such as raffia, beads, and porcelain to her pieces alludes to women's labor and its past and present importance in global trade.
The show includes five busts of black women, their lustrous ebony skin polished and smooth, their heads adorned with clusters of tiny porcelain flowers that resemble horns, an Afro, or a crown. The immediate impression is of puissance, but, unsettlingly, four of the busts lack eyes and their lips are pressed tightly shut, and one's visage is entirely covered with tiny white beads. One bust, No Face (all works 2016) is simply an elongated neck with a dense cluster of black flowers and a void instead of a face. The busts' muteness alludes to black women's historical and contemporary marginalization and elision from political, economic, and social spheres of power. However, similar to Kara Walker's A Subtlety, there is power in their silence –they have turned inward, and their thoughts, if nothing else, are their own.
The other work, Cupboard VI, is a ceiling-high raffia hut that the viewer enters to watch a video, Aluminum. In this mesmerizing film, choreographer/curator Rashida Bumbray is garbed in a gold sequined dress and dances in an empty loft space.
Around her ankles are shakers made of aluminum cans that delicately clash together as she shimmies and taps in a style that pulls from pre-colonial and post-slavery dance traditions. In what seems like a dialogue with the silent, obfuscated busts sitting nearby, Bumbray is fully present and possessive of her black body; her assertive moves offer an exhilarating and ultimately hopeful representation of identity and selfhood.
Simone Leigh, September 9th– January 8th at the Hammer Museum, 10899 Wilshire Blvd., Los Angeles, CA 90024, www.hammer.ucla.edu