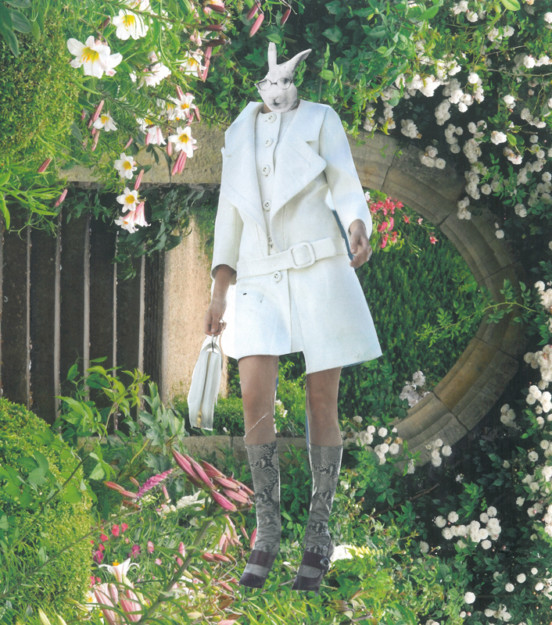 The Good Luck Gallery: John Hiltunen
Mark Twain is generally credited with the quote, "The more I learn about people, the more I like my dog." The artist of this exhibition also likes dogs—and cats, owls and even the odd tyrannosaur. As charming as a Saint-Saëns composition and sardonic as an Orwell parable, the collages of John Hiltunen—currently featured at The Good Luck Gallery in Chinatown—possess a surrealist's penchant for absurdity.
Using a recipe of equal parts fashion layout, contemporary photographic portraiture, drugstore picture frame inserts and pet fancier magazines the artist has deftly grafted animal heads onto stylishly clothed human bodies. These small works tightly girdle the gallery's three available walls, and none of the more than two dozen works is any taller or wider than 13 inches. Their preciousness is increased as the extremely high ceilings press weightily on such delicate works requiring the viewer to examine them carefully, like Canal Street handbags or moldy reliquaries.
The best of the wall collages exhibit the artist's bizarrely engaging strategy of placing vertical figures against verticalized landscapes. This sometimes results in a Klimtian pattern and decoration leitmotif, a durable strategy, which is most engaging where slightly sinister. One slinky owl-headed figure seems impaled on horizontal palm trees, in another image the camo-jacketed Dalmatian stands next to a cataract of clouds, while still another—one of the best in the show—a feline in a midnight blue evening gown is hour-glassed by an equally inky tree-line at waning sunset.
The artist's collages are all untitled (they are given only alphanumeric codes for bookkeeping purposes) as if they were a single ongoing, and possibly unending, work. Though not conventionally trained as an artist, Hiltunen is not entirely untrained; he attends a center devoted to the development of artists with various disabilities.
The most successful works, although too few in this exhibition, are the free-standing statuettes, displayed at toddler height, on floating shelves. They feature figures of similar hybrid structure glued onto blocks of wood, rather like small versions of the cardboard cut-outs of celebrity athletes found at sporting goods stores. The wooden backing echoes the shape of the affixed collage with a thin corona of wood showing. This departure into another format, however slight, gives these works a presence unapproached by the flat collages.
John Hiltunen, April 8 – May 21, 2017 at The Good Luck Gallery, 945 Chung King Road, Los Angeles, CA 90012, www.thegoodluckgallery.com.