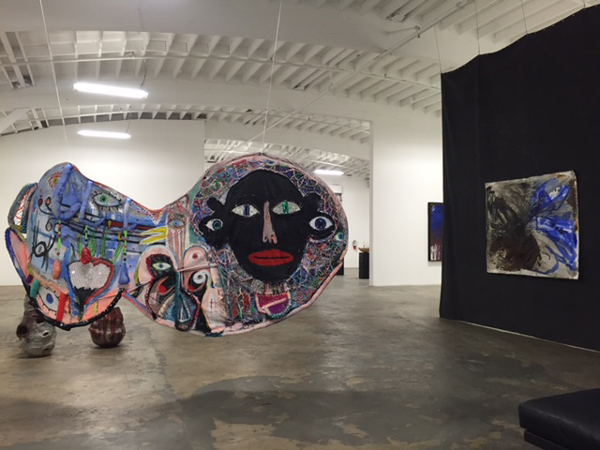 Get an Early Start… Round 2 of LA Fall Openings
Last Saturday we tackled Round 2 of the fall LA art season openings, starting in Downtown LA. Taking a lesson from our previous weekend in Culver City, this time we arrived earlier than 30 minutes before galleries were closing.
The Box showing Barbara T. Smith was first on our list. Already we saw the perk to being so early—no crowds. It is a rare treat to take time with the art at an opening. After soaking up as much of the work as humanly possible we had to keep pace and soldier on.
We left our unparalleled parking spot (seriously, I've never had it so good) and headed to Venus Over Los Angeles. There we found the crowd, and the party. The enormous space was filled with bold colorful pieces from a huge group show of 27 artists, including New York artist Katherine Bernhardt. Unable to find the libations, and getting weirded out by people sitting inside purple fiberglass boxes, we took our leave.
Chimento Contemporary was just down the street with Sally Bruno's opening. There we found quite a few familiar faces chatting with owner Eva Chimento. The work was beautiful but the gallery was hot, with the only A/C unit being hogged by an elderly woman. As we all sweat it out, she remained cool. And even cooler was the spotting of photographer Alex Prager.
After chilling on Chimento's patio, it was onward and westward to a few select shows, as time was of essence. We caught Marnie Weber's show at Gavlak which was as colorful and edgy as her fabulous LA film debut put on by LIVEARTILLERY presents at the Theatre at Ace Hotel a few Sundays ago. The movie was showing at the gallery too, but nothing compared to the big screen. A lot of musicians showed up: Kim Deal, Dani Tull, Scott Benzel and MOCA Director Philippe Vergne.
We were able to stop briefly at the Wilshire galleries, but we were in a mad dash to make it to Tom Knechtel's show at Marc Selwyn. As this was the artist's first LA solo show since 2011 (known for his steady and slow hand, and if you see his work you will surely understand ), many fellow artists came out: Renee Petropoulos, Judi Bamber, Carole Caroompas, critic Michael Duncan, and a rare spotting of Jay Levin, the founder of the LA Weekly—I was told, as he's a bit before my time. Check out his other show at CB1 Gallery.
All in all, some good art on the second opening weekend for Los Angeles, and we know we haven't even touched the surface, but most galleries have now debuted their fall selection. So get out there and see what's out there.