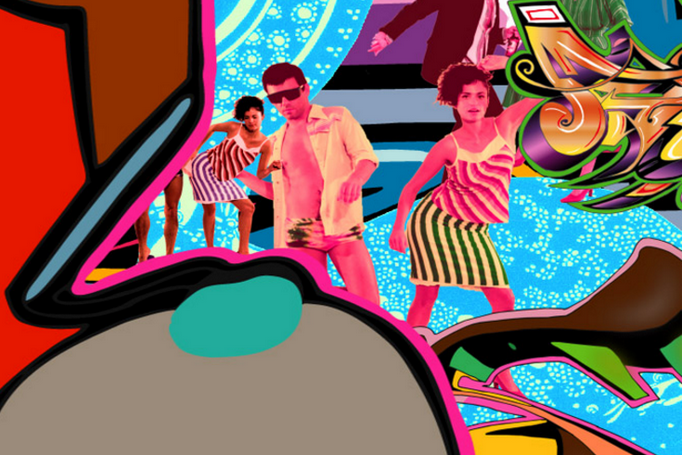 Galerías en LA/LA
Participating Los Angeles Area Gallery LIstings Recommendations.
Mid-Wilshire
1301PE
Jorge Mendez Blake
0/9–10/21/17
1301pe.com
Sprüth Magers, Los Angeles
David Lamelas: "Time as Activity"
9/7–10/21/17
spruethmagers.com
The Loft at Liz's
"South of the Border"
10/8: 7–9pm: author Eileen Truax panel discussion
10/17: 7–9pm: "Alienated" special performance by Johan Miranda
theloftatlizs.com
JACK RUTBERG FINE ARTS
Hans Burkhardt in Mexico
9/23–12/23/17
jackrutbergfinearts.com
Bergamot Station & Santa Monica
With this iteration of PST, Southern California may just be getting around to fully recognizing the importance of art in the Americas south of our own. However, Latin American Masters (LAM) is a gallery that has focused on modern and contemporary Latin American art since its 1987 inception. Fittingly, it will host four PST shows of artists inspired by the intermingled histories of pre-Hispanic and Colonial art. Renowned Colombian textile artist Olga de Amaral weaves fiber and gold into sensuous sculptural abstractions. Offering a contemporary vision of oro, her exhibition at LAM will coincide with the Getty's Golden Kingdoms: Luxury and Legacy in the Ancient Americas. Also influenced by Pre-Hispanic textiles, Peruvian painter Fernando de Szyszlo's mysterious paintings straddle representation and abstraction. Next, LAM will exhibit mixedmedia self-portraits by provocative Oaxacan master Francisco Toledo; and finally, Puerto Rican Arnaldo Roche's fantastic visions created by rubbing, scraping and printing.  —Annabel Osberg
Olga de Amaral, 9/9–10/10/17; Fernando de Szyszlo, 9/14–11/14/17; Francisco Toledo, 11/18/17–1/13/18; Arnaldo Roche, 1/20–2/24/18 at Latin American Masters, latinamericanmasters.com
—————————————————————————————————
bG Gallery
Linda Vallejo: "Keepin' It Brown"
9/9–10/10/17
santamonica.bgartdealings.com
Craig Krull Gallery
Gilbert "Magu" Luján,
Carlos Almaraz
9/2–10/7/17
craigkrullgallery.com
Lois Lambert Gallery
LA/LA: A Celebration Beyond Borders
9/9–11/5/17
loislambertgallery.com
ROSEGALLERY
Graciela Iturbide: "Photographic"
9/7–10/21/17
rosegallery.net/
Robert Berman Gallery
"LA/LA/LA"
9/9–10/24/17
robertbermangallery.com
Christopher Grimes
Lucia Koch: "No more things"
9/9–10/28/17
cgrimes.com
Richard Heller
Kajahl: "Hybrid Entities"
9/9–10/28/17
richardhellergallery.com/
Culver City
Between 1993–96, Ken Gonzales-Day created Bone-Grass Boy: The Secret Banks of the Conejos River, a conceptual yet cuttingly poignant photo-novella that germinated later bodies of work. Set during the U.S.-Mexican War, Bone-Grass Boy narrates the effects of the Mexican Cession on two protagonists, both played by Gonzales-Day: Nepomuceno, a Mexican soldier from what is now New Mexico, and Ramoncita, a Native/Latina forced to kill the rancher to whom she has been indentured. Through this series, Gonzales-Day explored aspects of his personal identity as a gay Mexican-American alongside larger societal controversies surrounding AIDS, gay and transgender rights, immigration and multiculturalism. These issues are timelier than ever; and Gonzales-Day has revisited Bone-Grass Boy, to be assembled for the first time since its creation and exhibited at Luis De Jesus. The show will include vintage and new work along with sculptural objects that Gonzales-Day used in creating this seminal series.  —Annabel Osberg
Ken Gonzales-Day, Bone-Grass Boy: The Secret Banks of the Conejos River, 9/9–10/ 28/17 at Luis De Jesus Los Angeles, luisdejesus.com.
—————————————————————————————————
Cherry and Martin
Ad Minoliti: "G.S.F.C. 2.0"
9/16–11/4/17
cherryandmartin.com
Roberts & Tilton
Daniel Joseph Martinez
9/9–12/16/17
robertsandtilton.com
Proxy Gallery
Ana Rodriguez: "flowers, ritual, and the romanticism of the abjectC
9/16–10/28/17
Beatriz Cortez: "Can this Marriage be saved?"
11/4–12/14/17
ospace.otis.edu/proxy_gallery/
Downtown LA/Arts District
THE BOX
Dysfunctional Formulas of Love
9/17–11/4/17
theboxla.com
CB1 Gallery
Lorenzo Hurtado Segovia: "Vida, pasíon y muerte"
9/9–10/21/17
cb1gallery.com
Jason Vass
Emiliano Gironella Parra: "Artempetía"
9/9–10/14/17
jasonvass.com
Wilding Cran Gallery
Maria Lynch: "Black Over White"
1/6/–2/25/18
wildingcran.com
Eastside
Bermudez Projects
"Ghetto Gloss" | The Chicana Avant-Garde, 1980–2010
11/11–12/30/17
bermudezprojects.com
MIXOGRAFIA
"From Mexico City to LA: A Visual History of Graphic Art"
9/16–10/21/17
mixografia.com
Chinatown
Coagula Curatorial
"Nervously Gendered"—The Art of Gerardo Velazquez
9/2–12/31/17
coagulacuratorial.com
Koreatown
Commonwealth and Council
Carolina Caycedo and Clarissa Tossin
9/9–10/21/17
commonwealthandcouncil.com
Venice
L.A. LOUVER
Fanny Sanín ​
9/12-11/4/17
lalouver.com
DXIX Projects
Ruben Ortiz-Torres ​
11/5-12/16/17
dxixprojects.com
Hollywood
Freedman Fitzpatrick
f.marquespenteado
9/7–10/14/17
freedmanfitzpatrick.com
Gavlak, Los Angeles
Los Super Elegantes
Performance Retrospective: "Forever Up, and Coming Now"
9/9–11/4/17
gavlakgallery.com
West Hollywood
M+B
Pedro Friedeberg
9/23–11/4/17
mbart.com
New Image Art
Retna: "Mano y Mano"
9/16–10/21/17
newimageartgallery.com
Beverly Hills
Gagosian Gallery
Adriana Varejão: "Interiors"
9/14–10/25/17
gagosian.com
Glendale
Ruberta
"el eje del mal"
9/10–10/22/17
ruberta.la