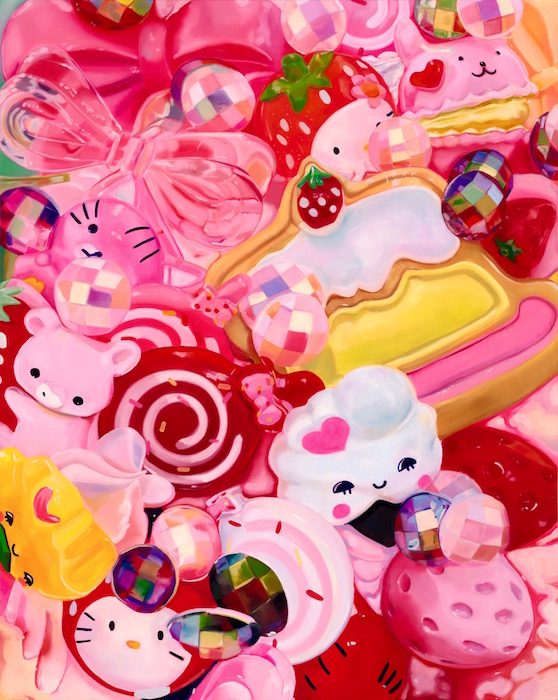 Friday, November 10, 2017
6:00 pm - 8:00 pm
680 8th Street Suite 240 B, San Francisco CA 94103
Spectacle
Ingrid V. Wells
www.ingridvwells.com
Solo Exhibition: Nov 10th – Dec 16th
Artist Reception: Nov. 10th 6-8pm
Glass Rice
680 8th Street Suite 240 B
San Francisco, CA 94103
www.glassrice.com
More about this event…
Glass Rice is proud to present Spectacle, a solo exhibition featuring bright, colorful oil paintings by San Francisco-based artist Ingrid V. Wells. In this her latest series, Wells continues to investigate the idea of the feminist spectacle—a topic the artist is particularly concerned with—bringing to light the sticky-sweet, childish portrayal of female identity in society. Created in Wells' signature aesthetic, these over-the-top, sparkling works deliver a shockingly accurate commentary on the ridiculous misery that women are forced to endure to achieve equality and respect.
Using pageantry, celebrity, fanfare and pop culture as recurring themes, Wells paints a visual cacophony of quaint, girly objects in vibrant, feminine colors. These seemingly innocent and cheerful candy landscapes with titles such as Diamonds and Pearls and Babies, OH MY! and Everything's Coming Up Roses draw giggles from the audience as they consider the beautiful frivolity before them. Upon further inspection, however, the miniature plasticine trinkets—painted as shiny still lives inflated to grand proportions—provoke a bizarre, almost suffocating encounter. As the enlarged, gendered objects dance in a crazed swirl of luscious pink, one begins to realize the more profound, underlying message behind the smiling clouds and happy critters.
Taken individually, the trifles are cute and delightful, but clustered into a candied extravaganza, the complexity deepens and the sugary mass of artificial happiness overwhelms. This line of inquiry exposes the immense pressure women feel to maintain the ideal feminine demeanor as charming, precious, and small. The fascinating and disturbing juxtaposition of light-hearted toys with the sickening reality of suppression aims to provide a place of subtle reflection and to, ultimately, dismantle the patriarchy (in the sweetest way possible).
Wells, in speaking about her artistic practice and thematic goals, comments:
"My gestural approach to painting contemplates the notion of female power as it enters into the discourse of painting. By emphasizing the artificial display of the female personality type with over-the-top, dripping spectacles of paint, these works critique the ridiculous and absurd tradition of the feminine norm. I hope my work can serve as a platform for viewers to engage in the conversation surrounding displays of femininity and how that affects the amount of power and respect we give to individual women."
In addition to Spectacle, Wells will also be exhibiting a collection of small-format bow paintings from her 30 Paintings in 30 Days series.–