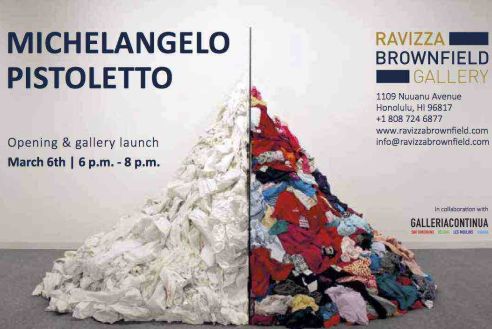 Monday, March 6, 2017
6:00 pm - 8:00 pm
1109 Nuuanu Avenue, Honolulu Hawaii 96817
Ravizza Brownfield Gallery is pleased to announce the opening of its new project space in the heart of Honolulu's Chinatown district.
The gallery, initiated by internationally renowned fine art professionals, Allegra Ravizza and Shari Brownfield, aims to create a cultural presence to promote European art in Hawaii.
It is also intended to cultivate an exchange of ideas to promote local creative research and to be a cultural crossroads where artists can be pioneers of a new world situated between the U.S. Mainland and Asia.
The gallery will celebrate its grand opening by unveiling a solo exhibition by Italian painter, action and ob- ject artist, Michelangelo Pistoletto. The artist conceived exclusive works specifically for Ravizza Brownfield Gallery including an editioned project that pays homage to the tattoo culture of Hawaii.