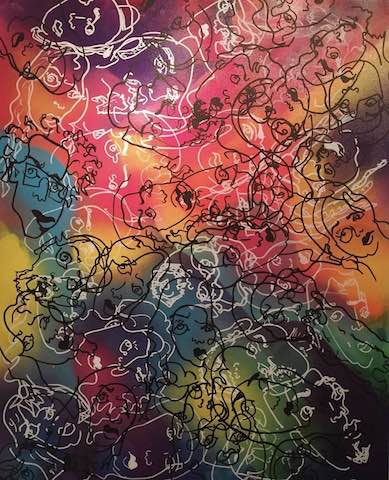 Friday, November 18, 2016
9:00 pm - 11:00 pm
1717 Vine Street, Hollywood CA 90028
The Redbury & 4AM Present PAINTERS – A Street Art series
WHAT:
Famed Los Angeles street artist Sek launched the new and unique live painting series, Painters, last week. This vibrant, (set to be) weekly event will feature various artists, all carefully curated by 4 AM, as they live paint and exhibit their work in the upbeat and scenic second floor lounge, The Library, at The Redbury Hotel in Hollywood.
This week, abstract expression artist and LA muralist Davia King will be the featured resident artist.
WHEN:
Thursday, November 17
9 PM
The LIBRARY at The Redbury
1717 Vine St.
Los Angeles, CA 90028
About Davia King:
Davia King is an abstract expressionist artist who uses bright colors. By layering thin layers of acrylic ink and using water, air and gravity to manipulate the paint she captures a visual interpretation of creative energy. By allowing the composition to take on a life of its own rather than try to force a preexisting idea, each piece is unique and cannot be replicated twice exactly the same way.
In 2011 she began publicly showing her work and has done a number of gallery shows and is currently represented by Dab Art in Ventura, CA and Concept Gallery in SLC, UT. Other pop up shows have been held in Cafes, office spaces, retail stores, vape lounges, private estates, and the DTLA art walk and the Venice Art Crawl.
Davia was born on the edge of the Wasatch Mountains in Provo, Utah. Growing up with such great beauty around her was inspiring but the big city energy and culture has always beckoned her and in 2009 she moved to Los Angeles, where she currently resides. For more information on Davia, please visit www.daviaking.com.