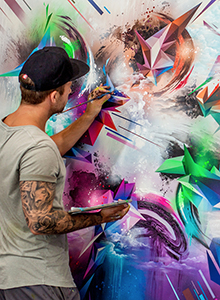 Friday, November 3, 2017
7:00 pm - 9:00 pm
8440 Sunset Boulevard, Los Angeles California 90069
Mondrian Los Angeles and Exxhibit Boutique present:
Mikael B | "Momentum"
OPENING RECEPTION
November 3, 2017 | 7pm – 9pm
EXHIBIT RUN
November 3 – December 15, 2017
Mondrian Los Angeles
8440 Sunset Boulevard, Los Angeles, CA 90069
Danish street artist Mikael B has been tapped by the world-renown Mondrian Los Angeles as the hotel's featured artist. This announcement comes hot off the success of the SHINE Mural Festival in St. Petersburg Florida, where he was selected to join over a dozen international muralists in transforming the city's downtown district into one of the most vibrant art landscapes in the country. Now at Mondrian Los Angeles, a collection of work, called "Momentum," will be prominently displayed in the lobby, trafficked by tens of thousands of global jet-setters every single month. Mikael's work will go on view beginning November 3rd until December 15, 2017. The hotel will host an opening reception on November 3, 2017 from 7pm – 9pm.
The showcase at the Mondrian Los Angeles will feature select prints and originals continued from Mikael's most recent solo exhibit, which marked a major shift in Mikael's style and outlook, finally feeling at home in the City of Angels after fulfilling his life-long dream of emigrating here to become a SoCal street artist.
"Momentum is about progress and drive to do something new," says Mikael. "Keep going for what you want and to constantly have greater goals – to keep momentum. That's how my mindset has changed to where I am now. I wanted to show works that resemble that and also showcase where I'm going."
Momentum will be on view from November 3 to December 15, 2017, with an opening reception on November 3 from 7pm – 9pm. Mondrian Los Angeles is located at 8440 Sunset Boulevard, Los Angeles, CA 90069.
Facebook event: https://www.facebook.com/events/544834169196413
https://shop.mikael-b.com/
https://www.exxhibit.com/