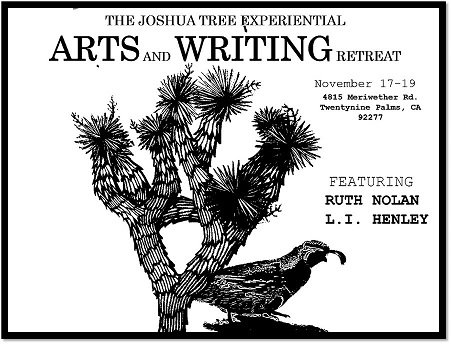 Friday, November 17, 2017
6:00 pm
4815 Meriwether Road, Twentynine Palms CA 92277
Description: The Joshua Tree Experiential ARTS and WRITING Retreat: Get out of LA for a 3-day arts and writing retreat featuring bonfire readings by desert dwellers Ruth Nolan and L.I. Henley. Curated workshops like Altered States and Psycho-Spiritual Legacies of the Desert and High Noon Ceremony lead participants through the natural landscape to generate new work in their chosen medium. Work is considered for inclusion in a commemorative anthology. Rather than seek an exact definition of the desert, this retreat is designed to inspire questions about what the desert is and what it may represent for you.
Dates: November 17-19 at Mojave Stars Ranch, 4815 Meriwether Rd., Twentynine Palms CA, 92277 and select locations within Joshua Tree National Park.
Tickets: $125 or $75 for students. Purchase through Eventbrite.
Email retreatjoshuatree@gmail.com or visit http://joshuatree.transpoiesis.com/ for more details.