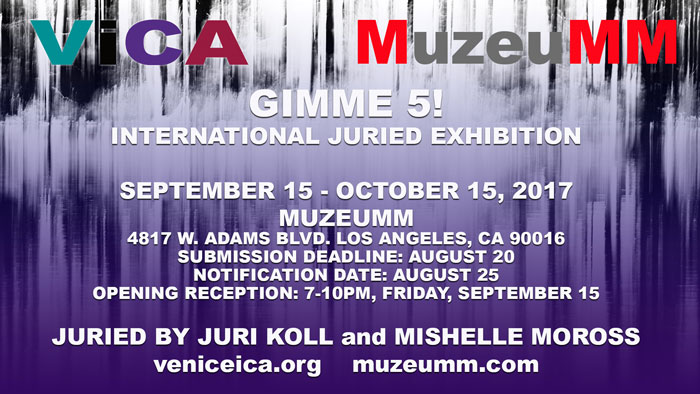 Sunday, August 20, 2017
12:00 am - 10:00 pm
4817 W Adams Blvd, Los Angeles CA 90016
The Venice Institute of Contemporary Art (ViCA), in partnership with MuzeuMM, presents "Gimme 5!" an International Juried Show, juried by Juri Koll, Director of ViCA and Mishelle Moross, Director of Muzuemm. Entries are open as of Thursday, July 20, 2017, and are $5 for each image submitted, with no restrictions on size or medium. All work must be available for sale. Artists receive 50% of sales price.
SUBMIT ARTWORK: https://www.veniceica.org/submissions/
SUBMISSION DEADLINE: August 20, 2017
SELECTION ANNOUNCEMENT: August 25, 2017
WORK DELIVERY DEADLINE: September 11 @ 5:00pm
(Selected submissions must be ready to hang)
OPENING RECEPTION of GIMME 5!: September 15 @ 7-10pm
CLOSING: October 15 @ 3-5pm
WORK PICK UP BY: October 20 @ 5PM
LOCATION: 4817 W. Adams Blvd. Los Angeles, CA 90016.
Shipping/delivery is the responsibility of the artist. Artwork will be insured only while in the possession of the gallery.
As Juri Koll says, "We want to show the best new work by established artists, and we are both very excited to see the work of artists new to us. We wanted to make this juried show easy to participate in as well, as we believe that artists deserve to be supported in every way possible."
email us at kollmoross@gmail.com with inquiries.
Looking forward to seeing your work!