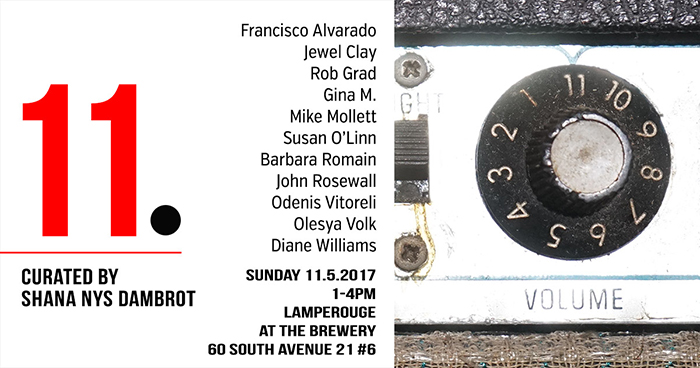 Sunday, November 5, 2017
1:00 pm - 4:00 pm
660 South Avenue 21 (Unit 6), LOS ANGELES CA 90031
What do you get when you turn art up to eleven?
You get a one-day exhibit at Lamperouge Gallery on Sunday, November 5, from 1 to 4 in the afternoon. You get painting, sculpture, photography, and installation; color, texture, image, and text; art on the walls, art on shelves, art on the floor and hanging from the ceiling; abstraction and figuration, the spiritual and the political. You get the dark whimsy of Gina M.; the layered introspections of Rob Grad; the multi-disciplinary socio-politics of Diane Williams; the painterly abstractions of Susan Hart O'Linn; the elemental textuality of Mike Mollett; the dreamy psychologies of Denis Vitoreli; the word weavings of Barbara Romain; the troubled and troubling bodies of John Rosewall; the eclectic forms and vibrant syntheses of Francisco Alvarado; the metallic geometries of Jewel Clay; and the metaphysical imaginings of Olesya Volk.
What do you get when you turn art up to eleven?
Well, it's one louder. Isn't it?
Participating artists: Francisco Alvarado, Jewel Clay, Rob Grad, Gina M Fernandez, Mike M. Mollett, Susan Hart O'Linn, Barbara Romain, John Rosewall, Denis Vitoreli, Olesya Volk and Diane Williams.
PLUS ++ Art Critic Shana Nys Dambrot will be selecting the work to be in the show!
Lamperouge: 660 South Avenue 21 (Unit 6), Los Angeles, CA 90031