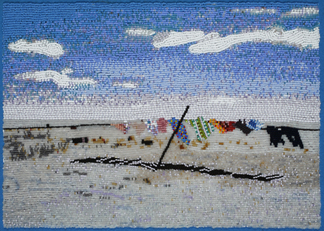 Saturday, April 22, 2017
6:00 pm - 8:00 pm
166 N La Brea Ave, Los Angeles CA 90036
Couturier Gallery is pleased to present Corey Stein: Laundry at 10 degrees, featuring thirty-six glass beaded, hand sewn 'paintings.' In addition, a full scale, three-dimensional body costume representing both of the artist's parents will greet visitors from the gallery windows, mimicking a storefront display. Stein, the daughter of a Jewish New Yorker and a Tlinglit mother from Alaska, is drawn to images culled from personal observation and familial and community experience. All works in this show were produced between 2000 and 2017. The exhibition runs from April 22nd – June 3rd, 2017. The opening reception is Saturday, April 22nd, from 6-8pm and is warmly open to the public.
The primary catalyst that inspires the imagery in this exhibition comes from a photograph made by the artist, depicting a desolate landscape in Chevak, Alaska. The analog photograph was of such a poor resolution and optical quality, that the snowy Tundra ice could have been mistaken for the warm sands of Venice Beach, California. Beginning with this simple misfire, the artist would embark on a series of investigations of daily life and their dualities that would conflate and contrast these two coastal areas. The mundane, the small details, convey very human connections between them.
The intricate use of glass beads to generate imagery, or narrative sculpture, as Stein calls them, is adopted from the handicraft of geometric crests and floral imagery used in the Tlinglit tradition, which is part of the artist's dual familial background. In Stein's observations of California and Alaska, however, the human-nature relationships are mediated by commercial products, architecture, food, and even detritus. The delicate and shimmering surfaces of the glass beads themselves, strike a resemblance to the glistening surfaces of snow that cover the Alaskan landscapes, and serve as a reflection of the blunt realities within both locals.
Corey Stein was born in Los Angeles, California, and received an MFA and BFA from the California Institute of the Arts (CalArts) in Valencia, CA. Stein also participated in a year-long exchange program doing foundry work at Rhode Island School of Design (RISD). Major Influences include John Baldessari, Jules Engel, and the African Ensemble. Stein's work has been exhibited Nationally and throughout Southern California, including Sealaska Heritage, The Los Angeles Municipal Arts Gallery COLA (2014), The Autry Museum American Indian Arts Marketplace, The Pilchuck Glass School, and the Vermont studio Center. Public collections include the Westfield Valencia Town Center Mall, Valencia, CA., the University of Washington Medical Center, and the Laguna Art Museum, Laguna, CA.
For further information or images please contact cg@couturiergallery.com.