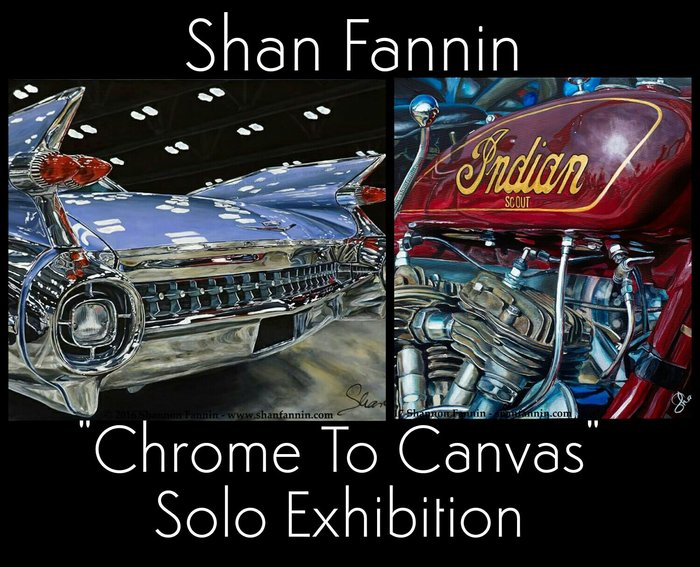 Friday, September 8, 2017
5:30 pm - 8:00 pm
2235 E 6th St #102, Austin TX 78702
Artist Celebrates Classic Vehicles
Exhibition Title: "Chrome to Canvas"
A Solo Art Exhibition by Realist Vehicle Painter, Shannon "Shan" Fannin
Opening Reception:
Friday, September 8, 2017, 5:30-8pm
Exhibition Runs: September 1- October 1, 2017
Location: Link & Pin Art Gallery
2235 E 6th St #102, Austin, TX 78702
Phone:(512) 900-8952
www.linkpinart.com for more information
Gallery Hours: Friday-Sunday 11am-4pm
——————————————————————————————————————
Austin, Texas – The Link & Pin Art Gallery is pleased to present a solo exhibition featuring new works by Award Winning Vehicle Painter, Shan Fannin. The "Chrome to Canvas" Exhibition will run from September 1-October 1, 2017. Opening reception and artist meet is Friday, September 8 from 5:30-8pm. Gallery hours are Friday-Sunday 11-4:00, or by appointment.
Shannon "Shan" Fannin is an award winning vehicle painter known for her dynamic and colorful realist acrylic paintings. The Link & Pin Art Gallery have selected Shan's work for a solo exhibition featuring her large scale cars, motorcycles, and airplanes from the late-1960's and earlier. Her unique combination of vibrant color, and 90% realism/10% abstraction formula bring these vintage vehicles to life. Each painting a visual feast and a trip back in time.
"Shannon's approach to realism consistently captures the passions of not only her own talent, but also those of automotive designers and in many of the reflections, the admiration of spectators. Never have I seen such depth captured in a painting." -Les Kiser, International Motorsports Commentator, Speed City Broadcasting
"Shan Fannin's bright paintings of vintage vehicles ignite our memories when everything was shiny and new and America was still a place for discovery. When we could stretch out our legs and feel time stand still." -Didi Menendez, Curator/Publisher of Poets Artists Magazine
ABOUT THE ARTIST:
Shannon "Shan" Fannin lives in Austin, Texas. Her work has shown in galleries throughout the U.S. including the Salmagundi Club, Petri Fine Art, and Amelia Island Concours d'Elegance. She is a member of the International Guild of Realism, American Women Artists, and National Oil & Acrylic Painters Society. She was one of the 13 international finalists for the 2017 Artslant Georgia Fee Paris Residency. Shan is also a guest writer for magazines Artists on Art, Create!, Where Women Work – Business, and StudioVox. You can reach Shan at shan@shanfannin.com