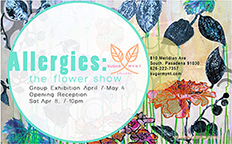 Saturday, April 8, 2017
7:00 pm - 10:00 pm
810 Meridian Ave., South Pasadena CA 91030
This is our flower show with a twist, the twist being none of the flowers are real! Stop and smell the artworks opening Saturday, April 8th, reception from 7pm – 10pm. SugarMynt will be showcasing a bouquet of artists in the season of sneezing. Come sniff our selection of artworks by Bonnie Lambert, Brenda Cibrian, Clovis Blackwell, Dany Paragouteva, Dani Manning, Douglas Alvarez, Kelley & Cricket, Lori Hutchison, Rob Grad, SaraRose, Shelley Kommers, Shula Arbel, Terri Berman.
Let this flower theme be your antihistamine! 😉
Opening Reception April 8th, 7-10pm!
Show runs April 7th – May 4th at SugarMynt Gallery in South Pasadena.
Optional RSVP on our Facebook event page: https://www.facebook.com/events/719761444864218/