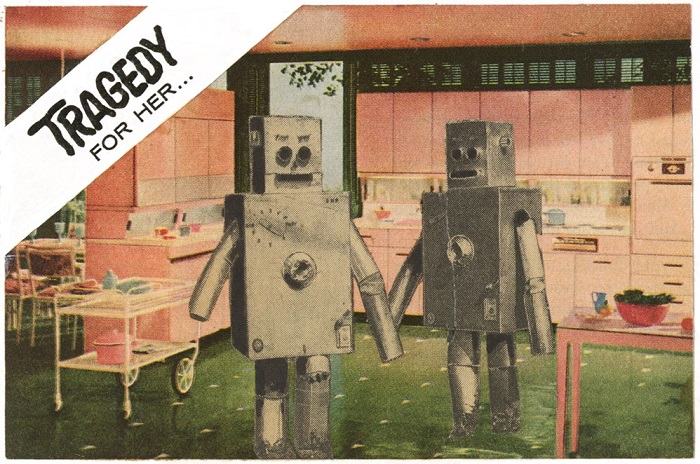 Saturday, March 4, 2017
7:00 pm - 10:00 pm
118 Winston Street, 2nd FL, Los Angeles CA 90013
An exhibition devoted to the work of Los Angeles collective World Imitation Productions. First emerging as creators of collaged and photocopied mail art and publications in the late 1970s, World Imitation is perhaps best known in their musical incarnation, the band Monitor, active between 1978 and 1982.
The exhibition draws from an archive of materials that together hold up a funhouse mirror to Southern California culture, consumer dystopia, and the late 1970s punk movement. Rarely seen publications, paintings, sculpture, video, and vintage flyers will be on view, along with interactive elements based on recently discovered World Imitation source materials and formative works.
World Imitation's publications, as well as the group's events and exhibitions, reflect their interest in disparate topics such as , science (fact and fiction), psychedelia, pranks, ersatz exotica, UFOs, the paranormal, and Disneyland as a site of anthropological research.
In the late 1970s and early '80s World Imitation curated pioneering exhibitions of found paintings culled from thrift stores, lost pet flyers, and other abject works. In 1981 they teamed with Jeffrey Vallance to produce the infamous "Fix-it-Up" show in which high art by celebrated artists including Ed Ruscha, George Herms, and Chris Burden was defaced, or "fixed up."
This 40th anniversary exhibition celebrates the work of World Imitation, whose skewed worldview remains riotous, disturbing, and weirdly profound.
A publication documenting the exhibition will be available.
https://www.thesedaysla.com/