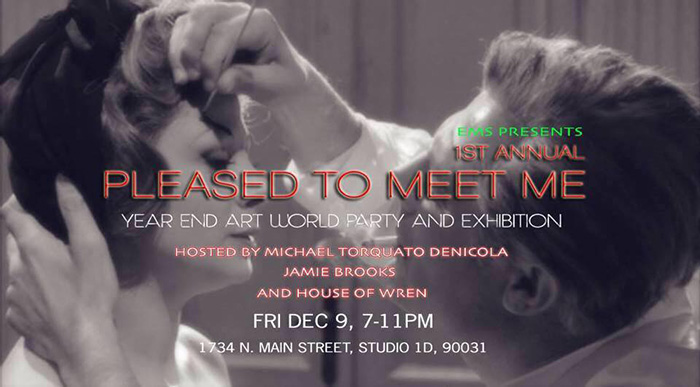 Friday, December 9, 2016
7:00 pm - 11:00 pm
1734 N. Main Street, Studio 1D, Los Angeles California 90031
You are invited for a one night art exhibition hosted by Michael Torquato DeNicola and presented by EMS ARTS, Jamie Brooks and House of Wren.
PLEASED TO MEET ME is a celebration of new artists introduced to Eric Minh Swenson in the last year. You are invited to view works of art at Torquato's large art studio as we celebrate new friends, emerging artists, and merriment towards a new year. Exhibiting artists include:
Jessica Csanky
Mark Acetelli Artist
Anya Kavanaugh
Laurene Alvarado
Caesar Alzate Jr
Zara Monet Feeney
Priscilla Franco
Dakota Noot
Salem Cade
Rooney Hardwick
Ariana Pacino
Brittany Worlinsky
Stacey Alexander
Chuck Swenson
Ori Naz (Ashley Blue)
Dulcinea Circelli
Angela Izzo
Derrick Maddox
April Bey
Lili Bernard
Stefani Blain
Michelle Gallawa Hilliard
Excited to announce Alex Schaefer will be painting LIVE PORTRAITS at party prices for the Dec 9 holiday party!🎉🎄🎨
5 minute portrait: $20
10 minute portrait: $40
20 minute portrait: $80
Alex is renowned for his quick bravura painting, whether it's urban landscape on the streets of LA or portrait sketch paintings at a festive event, he's fun to sit for a portrait and fun to watch at work. Get painted!
RSVP via Facebook, event is open to all.