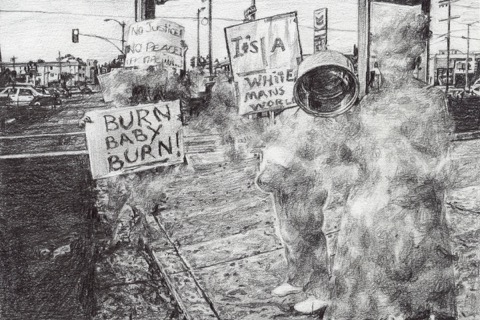 Saturday, April 8, 2017
6:00 pm - 9:00 pm
310 E Queen St, Inglewood CA/Los Angeles 90301
Residency Art Gallery is extremely pleased to present 1992: An Examination of the Iconography from the '92 Los Angeles Rebellion. The group exhibition will run from April 8th through June 3rd, 2017, with an opening reception on Saturday, April 8th from 6pm to 9pm. 1992 will feature new work from Charles Dickson, George Evans, Lauren Halsey, Kang Seung Lee, Patrick Martinez, Rosalyn Myles and Tanya Bernard.
Amongst its scenic landscapes, good weather and palm tree-lined streets, Los Angeles has always been an axis of racial tension amongst its residents. Whether it be from the housing discrimination of the 40s, racial profiling by the LAPD, friction between Black and Latino gang members or the "War on Drugs" in the 80s that disproportionately targeted Black neighborhoods, these instances and many more had lasting affects on our community that still resonate today.
In March of 1991, Rodney King led authorities on a high-speed chase that concluded with one of the most vicious and violent acts of police brutality caught on videotape. Two weeks later, a young Black teenager by the name of Latasha Harlins was gunned down by Korean-American storeowner, Soon Ja Du, over a bottle of orange juice that was assumed to be stolen. In November 1991, Du was fined $500 and sentenced to five years of probation and 400 hours of community service with no prison time for murdering Ms. Harlins. Later, on April 29th 1992, a predominantly white jury in Simi Valley acquitted officers Stacey Koon, Laurence Powell, Timothy Wind and Theodore Briseno of assault and using excessive force in the beating of Rodney King. These two instances, along with an already-frustrated Los Angeles African American community, served as the ignition for one of the most polarizing events in Los Angeles history. Whether it is remembered it as a riot or uprising, the events are ingrained in our memories 25 years later.
1992 features work from Los Angeles based artists that lived through and saw the effects of the 92' uprising. Each artist selected for the exhibition was asked to create work around the images that stood out the most from their memories of the uprising. The purpose of this exhibition is to serve as a reminder as we view the parallels between the events that led up to the 92' rebellion and what is currently happening today. 1992 drives the conversation forward and urges us to not repeat the same mistakes.
In conjunction with Gallery 38, Residency Art Gallery presents a series of exhibitions exploring the images and experience of the 1992 Los Angeles Riots. The 1992 Los Angeles Riots, were a series of riots, lootings, arsons, and civil disturbances that occurred on April 29th in South Central Los Angeles. This unrest mounted after years of injustice and unfair treatment of the community by the Los Angeles Police Department Officers and the U.S. Justice System.
Map Unavailable