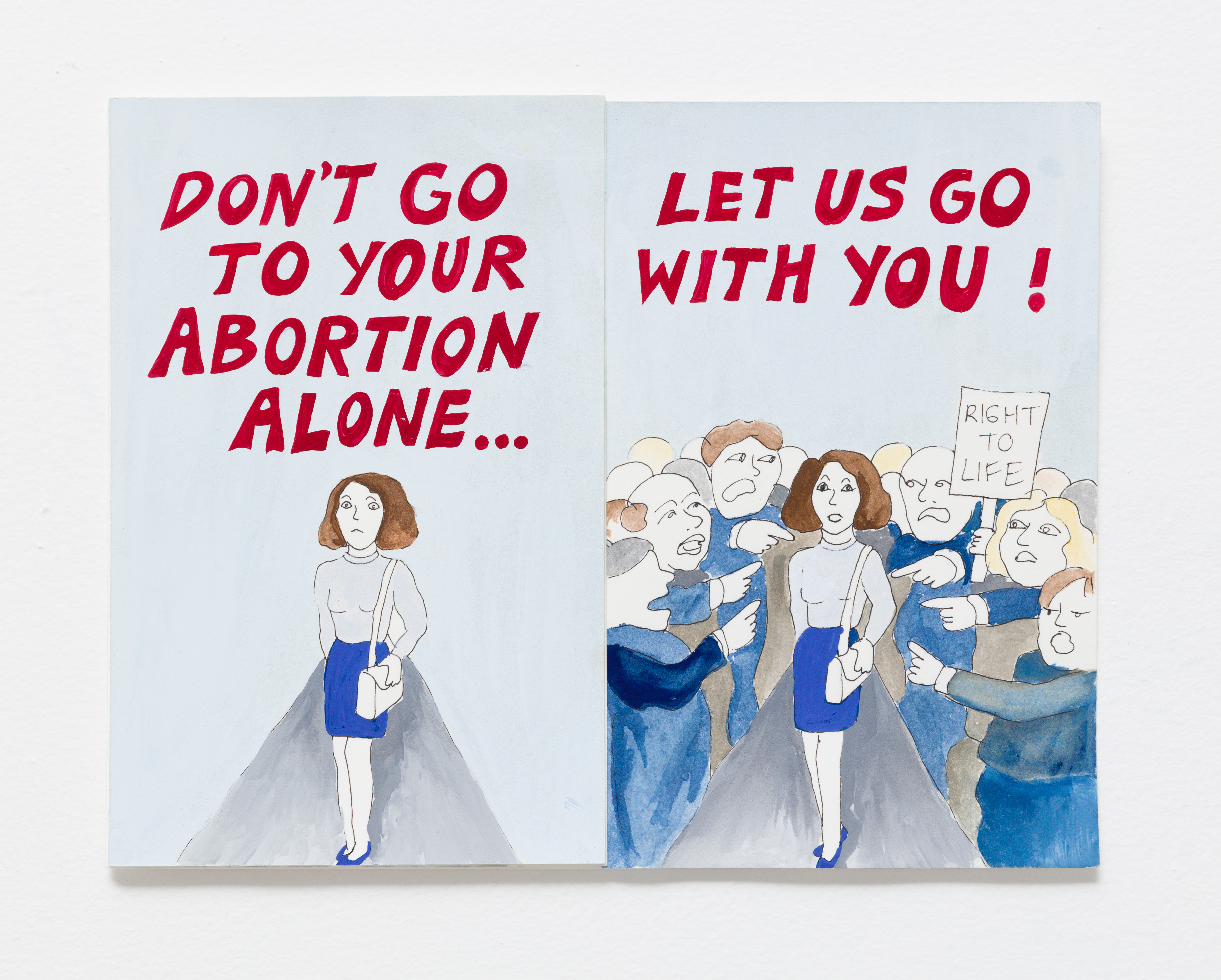 Erika Rothenberg
Charlie James Gallery
Erika Rothenberg's "House of Cards" is as timely now as it was when it was first shown in 1992. In our changing political climate, Rothenberg's satirical, ironic wit and insightful commentary resonate on multiple levels. Organized by themes, the hand-crafted greeting cards are installed around the perimeter of the gallery. Be it racism, feminism, religion, the economy or politics, Rothenberg calls attention to injustices and inequalities.
Under the heading of politics, a gouache and ink on paper the size of a typical greeting card is painted in an illustrative style. On the left, it depicts hands in a variety of skin tones pointing toward the centered text that reads: "You're a liar, a manipulator, a phony, and an adulterer!" The right side reads: "Maybe you should run for president." Originally created 24 years ago, it reflected an extant reality that turned out to be prescient.
Rothenberg's cards illustrate the conditions of unemployment (crime as a job opportunity), abortion and racism with funky drawings, bright bold graphics and bombastic texts. The sequence of cards ends with melancholic (albeit ironic) hope: A final card in magenta and yellow with birds at the bottom states, "Someday soon … We'll live in a world of peace and equality!" The right side is surrounded by a border of worms, presumably food for the birds on the left.
The installation includes a multilevel Plexiglas case that bisects the gallery in which pop-up cards and 3D objects round out the display, making it a more complete replica of a shop that sells knick-knacks and cards. Rothenberg also presents a selection of new works. These include both framed cards and the spectacular One World So Many Ways It Could End (2015), a pedestal-based sculpture where viewers are invited to spin a wheel that pictures 16 end-of-the-world scenarios, from the realistic—Global Warming and Nuclear War, to the absurd—a Zombie Apocalypse or Alien Invasion.
Both humorous and threatening, One World So Many Ways It Could End is an apt complement to the individual sentiments expressed in the cards. No election-related exhibition would be complete without a work about Donald Trump, and Rothenberg's contribution is a framed gouache illustration depicting Trump in a blue suit, red tie and white baseball cap. The left panel states: "I Will Make America Great Again Because …" The right panel continues with Trump's disembodied presence and the image of an orange-haired woman in a black strapless dress under the text: "I'm The Only Candidate Who Really Knows How To Cope/Grope!"
What has changed in the 24 years since Rothenberg embarked on this project? Perhaps awareness. Yet also numbness as the advent of the Internet, social media feeds and the 24-hour news cycle bring a constant bombardment of information and opinions. What makes Rothenberg's project stand out is that it is hand-made, not mass-produced, and as such it allows for personal, and quieter reflections on the current state of the world.