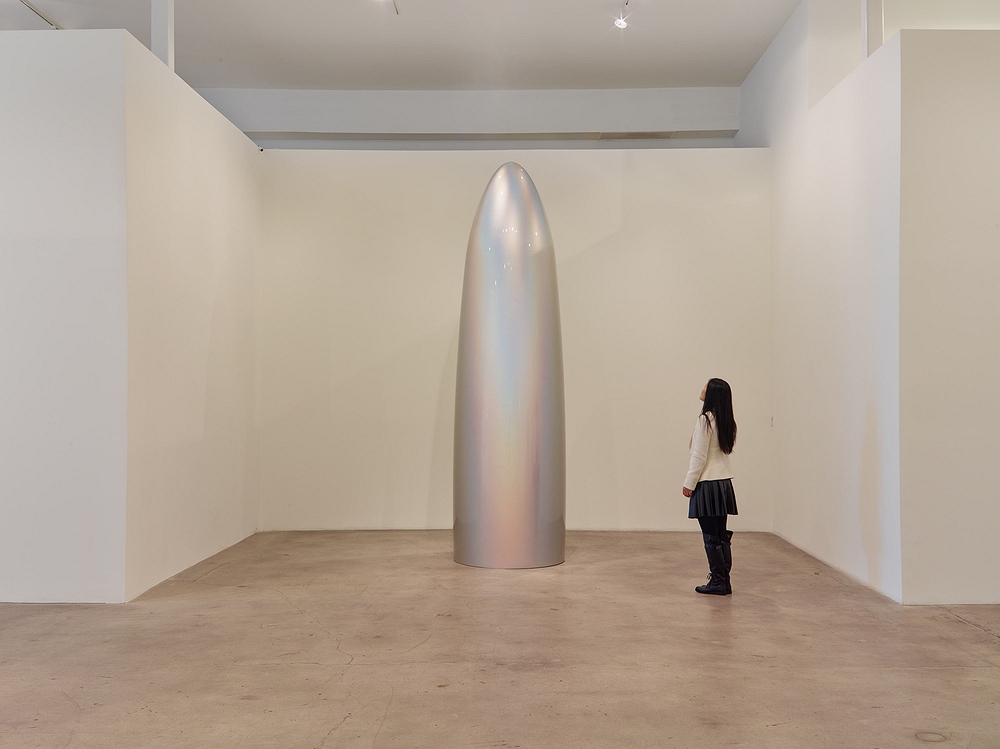 Diane Rosenstein: Gisela Colon
Gisela Colon's "HYPER-MINIMAL" is a psychedelic futurist's dream come true. The spacious Diane Rosenstein gallery is divided into a handful of rooms displaying fifteen new works. The works include two freestanding pieces, one of which is the Untitled (Monolith Silver) (2016)—a particularly phallic twelve-foot large sparkly carbon fiber sculpture.
Colon's work is undeniably fun. It's interactive and forces viewers to walk around the different pieces to see how light and direction of view affect color and depth of the works. One room contains Rectanguloid Progression (7 Units Silver) (2016), which all appear grey from one angle, and change to a iridescent display of green and pink when changing view.
The blow-molded acrylic material gives a very unique effect, in which it is difficult to discern whether the works are hollow or completely full of material. The works seem to be begging to be touched, prodded, and manipulated to see how they function (luckily, nobody was doing this in the gallery as far as I could tell).
Essentially the works play with perception. I had to confirm that no, the sculptures are not back-lit and merely seem to emanate the illusion of light from within.
Colon has been creating this type of work for a while, and while her body of work is somewhat aesthetically uniform, the new works at Diane Rosenstein still offer something of interest to those familiar with both her work that that of the California Light and Space movement that she self-identifies with (including James Turrell, Helen Pashgian, and Larry Bell among many others).
Gisela Colon "HYPER-MINIMAL", January7-February 18, 2017 at Diane Rosenstein,  831 N. Highland Ave. Los Angeles, CA 90038, www.dianerosenstein.com.